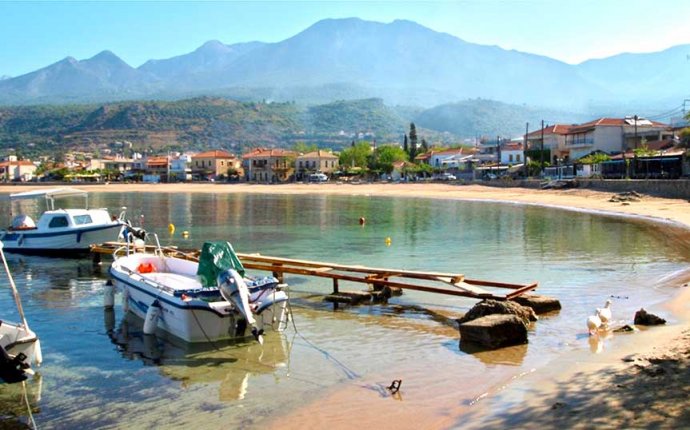 Holidays to Stoupa Greece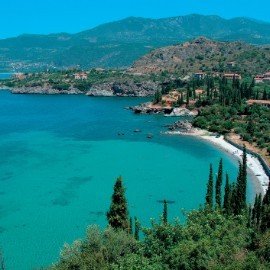 Kardamili and Stoupa holidays
Kardamili, Stoupa and Aghios Nikolaos
Transfer time 60-90 minutes
Designated as a village of special beauty, Kardamili is in the upper (outer) part of the central Mani peninsula. It is an upmarket little place of great appeal to writers, artists, walkers and nature-lovers.
With the peaks of the Taygetos range behind and a Blue Flag sea to the front, Kardamili occupies a privileged spot on this spectacular stretch of coastline. Either side of the road through the village (which can be busy in August) Kardamili has some seven or eight good restaurants, several bars/cafés, and a number of small shops. It has its share of tower houses, now deserted – just walk for 5 minutes up the dry riverbed to Old Kardamili behind.
To the north there is a long pebble beach called Ritsa. Otherwise you can swim from the rocks or from purpose-built quays in a very clean sea. There are plenty of walks, the best being through the Viros Gorge; a spectacular 4-5 hour nature trail with a couple of monasteries en route.
Holidays In Kardamili and Stoupa
The delightful village of Stoupa lies just over an hour's drive south from Kalamata and is the closest thing the Mani has to a small resort, thanks to its two beautiful, sandy beaches, Kalogria and Stoupa. The setting is complemented with a backdrop of olive covered hills and the magnificent Taygetos mountains, making for a truly stunning location with all the facilities for a relaxed holiday. You should not be surprised to read that Stoupa holds particular appeal for couples of all ages and younger families.
Despite Stoupa's popularity (the beaches do get busy in season) it remains low key, evening entertainment here still centred around a wide variety of good quality tavernas. Facilities include several mini-markets and two ATMs. A range of interesting excursions last year included Olympia, Mystras and the spectacular Dirou Caves, and small bicycles and motorboats can be hired. There is a lovely footpath above the sea which leads you to neighbouring Aghios Nikolaos in about an hour.
Aghios Nikolaos is the archetypal sleepy Greek fishing village, and the cafés and restaurants above the exquisite small harbour here are the perfect place from which to watch the boats come and go. Pantazi beach is a 15 minute walk to the south, its wide stretch of sand/shingle shaded by trees.
The whole area is excellent for walking so we are pleased to offer our clients a free walking guide (on request - just call or email with your booking number). This has been kindly compiled by previous guests and details 15 walks from Stoupa and Aghios Nikolaos ranging from 25 mins. to 2 hrs 15 mins. It was last revised in 2005 so may be a little out of date in parts - any updates gratefully received!
how solution priority number is calculated
how much system in human body
who roadmap access to medicines
where's the london stadium
which technology is not a form of broadband
how system restore windows 10
how start up
where is sandro from project runway now
how entrepreneur contribute to economic development
what system is the heart in
who entrepreneur for capitalist psychologist and economist
how many technology parks are in india
where to purchase road map
how many science passages are on the act
why business matters to god
where entrepreneurship came from
where is dmitry from project runway now
why business analytics
how far phone from eyes
whose product with 7 is 154
how often answer
when business writers request information
what development accounted for the failure weegy
whose project is naia
how far phone from bed
why device unreachable iphone
whose product is 12 and sum is 7
how many product managers do you need
when design takes flight
which business is best for beginners
why startups succeed
where to design a logo
how much design logo
how often is continuously
where is tommy from design inc
how many project management processes are there
where to buy technology
where to get business license
where to find solutions manuals for textbooks
why startups register in delaware
where i'm from locations
where is advantage solutions headquarters
who's and whose examples
entrepreneur who is skeptical
how many development cards in catan
how device tree works
what business can i start with 5k
how much solution in lateral flow test
Source: www.sunvil.co.uk