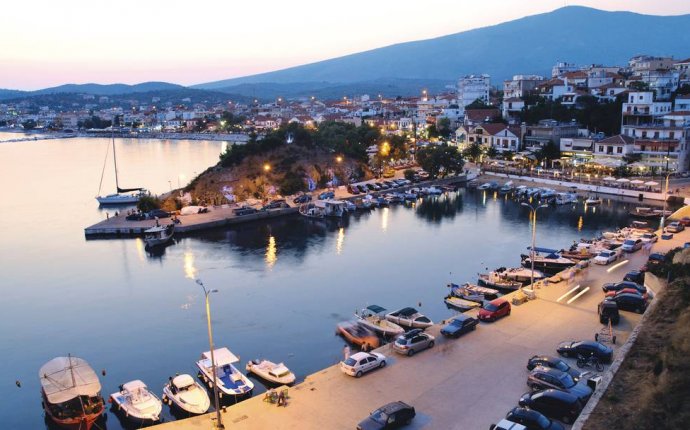 Holidays to Thassos Greece
Holidays to the Greek Island of Thassos put great scenery, whitewashed hamlets and flawless beaches at your fingertips.
Authentic Greece
Of all the Greek Islands, Thassos is a true authentic. While some of its neighbours have added international elements – like karaoke bars and all-you-can-eat Chinese restaurants – to their offerings over the years, Thassos has remained traditional to a T.
Mountains and beaches
Thassos' scenery is trademark Greek. The island is blanketed with rolling hillsides, fertile vineyards and olive groves. Move down to the coast, and it's got an A-grade collection of beaches. Golden Beach, on the east coast, is probably the best-known stretch of sand, partly because it's the longest in Thassos and partly because there's a decent selection of tavernas and hotels near the sand.
Thassos Town
Life on Thassos can be traced back to the Stone Age. Since then, a number of empires, including the Romans and the Egyptians, have tried to claim the place as their own. As such, the island's capital, Thassos Town, showcases all sorts of mementos from the past, including an ancient Roman amphitheatre and an acropolis.
Limenaria
Limenaria, on the west coast, picks up where Thassos Town's history leaves off. The island's second-largest town was the nucleus of Thassos' mining industry in the 20th century. You can still see the turreted mining headquarters on the headland overlooking Limenaria Beach, and there's a mine beneath it, which you can take tours of.
Things to See and Do in Thassos
The S word

'Skala' is a good word to learn if you plan to navigate your way around Thassos' coast. A lot of the island's inland villages share their name with their nearest beach, and the word 'skala' is put in front of the beach's name to differentiate the two. As an example, Rahoni is inland from Skala Rahoni, and so on. If you're interested, the word translates as 'step' or 'little pier'.

The big beach

Measuring up at 2 kilometres long, Golden Beach is the biggest stretch of coast on Thassos. And its name speaks for itself – the sand here is the colour of the precious metal. The beach comes with the full arsenal of facilities, too. There are watersports, sunloungers and tavernas that let you eat just footsteps from the shore.

The secret beach

Pachis Beach, 6 kilometres from Thassos Town, aspires to be incognito. You have to drive here, and it's not sign posted from the road. But, while it was once Thassos' biggest secret, these days it isn't quite as deserted. There are thatched parasols on the sand and a couple of eateries by the beach.
Laid-back evenings

On the whole, Thassos' nightlife revolves around the island's eateries. In Thassos Town, 18 Oktovriou Street and Central Square carry most of the restaurant weight. In Limenaria, the seafront promenade is the place to fork through a plate of fresh seafood or a classic Greek dish. For something different, head to

Theologos, 15 kilometres from Limenaria, on a weekend. The village is an ambassador for rembetika music, Greece's answer to American blues.

Lively evenings

The lively side of Thassos' nightlife is accounted for by bars rather than clubs. In Thassos Town, the bars cluster around 2 main streets. There are outdoor ouzeris around Miaouli Street by the old harbour, and a couple of Brit bars on 18 Oktovriou Street. The town of Potos has its fair share of bars, too. Most of them run along the waterfront in the old harbour area.
Piperolahana

You have to be more of a chemist than a cook to perfect this dish. The recipe, which comes from Prinos village, combines onions, beans, cabbage, green peppers and brine. You start preparing the dish 10 days in advance by drying the cabbage for three days. Then you add the other ingredients and leave for seven more days. At this point you add the mixture to some boiled beans to make a casserole.

Thassos stew

This slow-cooked stew is made from veal, potatoes, quince, apples, red wine and bay leaves. The dish features on the menu of every traditional restaurant worth its salt. It's usually served in a heavy clay pot, which gives it the wow-factor.

Kakavia

This dish was born out of necessity in the cramped galleys of Thassos' fishing boats. It's made by boiling water, vegetables, garlic and the catch of the day. The fish and vegetables are removed before serving, and lemon juice is added to create a bouillabaisse-style soup.

Paspalopita

The smell of this meal cooking starts the countdown to siesta and, when it's brought to the table, it's time to retreat from the midday sun. The dish itself is similar to a Spanish tortilla, but it's made by baking courgette, feta cheese, spearmint leaves, eggs, breadcrumbs and butter.

Tsipouro

Autumn is tsipouro production time in Thassos. This brandy-style drink is distilled from grapes. Almost every village has a vineyard of some sort and entire communities turn out to undertake the back-breaking work of grape picking. A couple of months later the first drops of tsipouro are poured and a celebration starts.
Skala Rahoni
Skala Rahoni, on Thassos' northwest corner, is a sleepy village surrounded by fragrant pine forests and ancient olive groves. For people looking to leave civilisation behind, there's just a main square, a sprinkling of traditional stone villas, and a stone church tucked behind the fishermen's harbour.
The island of Thassos sits 12 kilometres off the coast of northern Greece. And Thassos Town – known locally as Limenas – is its capital. It's long been a Greek getaway, but it's now firmly on the map for holidays that cleverly combine old and new. There's a pretty port with seafront tavernas, a modern centre filled with shops and bars and, up on the hill, a Roman amphitheatre and temples.
Source: www.thomson.co.uk