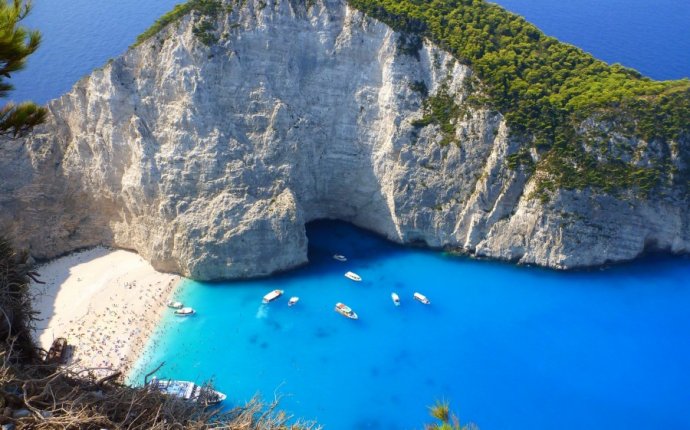 Greece Beautiful beaches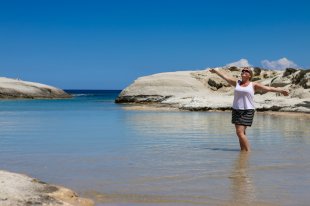 You must believe how amazing this beach is! I would have loved to just spend an entire day at this beach, lazing like a lizard on the warm rocks, but there was still so much to see and do on Milos.
Lunch at O Hamos
Time had flown by having fun at the beach, so we returned to Adamas for lunch. O Hamos (Oh Hamo) was a delightful family-friendly restaurant that came highly recommended. From the moment we walked through the lush green entry, we knew we were in for a treat. They had an outdoor playground for the kids, which was very well maintained.
The cute menus were decorated with little wooden utensils and completely hand-written in 5 different languages. More details about our food exploits on Milos can be found here.
Pollonia
Next, we drove to Pollonia in search for a playground. The one we found in the centre of town was a little rundown and rusty, not that the kids seemed to mind. But Mia spotted a giant swing on the beach which more than made up for it.
Beach Hunting
Returning back towards Adamas, we stopped by chance at Papafrangas (Fallen Cave). There wasn't much signage, but we spotted the tell-tale metal gate and flower-lined field. The beach in this scenic location can only be accessed by climbing down a cliff, so we just had a quick look around the top and continued on our road trip.
Mandrakia was our next stop. This is a small summer beach destination for locals, and a gorgeous place to grab a tan. There wasn't much here other than a church, so make sure you bring some food and water if you'll be here for a while. In summer, the water becomes so clear that the boats look like they are floating on air!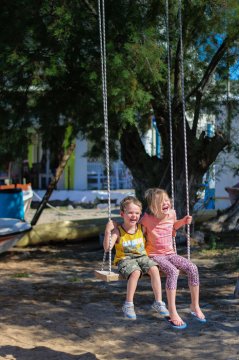 Driving further west, we stopped at Firopotamos. This had to be our favourite family-friendly beach on the island. The bay was protected by a high cliff, forming a bay with still, clear water for the kids to play in. There was also plenty of shade on the beach and we just lazed around for half an hour. The only other life on the beach was a holiday home 50 meters away which pumped out a few loud local tracks and induced dancing and clapping which was entertaining to watch. Oopah!
As the sun was getting low, we packed up and jumped back in the car and continued west. Driving through Tripiti we reached Klima, which was filled with cats. Mia counted 29 along the road through the town.
Sitting On The Top Of The Bay
Caius had fallen asleep by this point so we parked the car next to Apoplous, a restaurant on the bay in Adamas near our hotel. He stayed asleep for our entire dinner while Erin, Mia and I sampled gorgeous local cuisine. The sunset was almost as delicious as the mouth-watering food.
Catacombs
The next day after breakfast, we met up with Gina and fellow travel writer, Marc from Canada. All together we drove to Tripiti, navigating through the tiny cobble stone roads until we reached the Catacombs Of Milos.
These underground man made structures date back as far as the 1st century AD. Along with catacombs in Rome and Israel, these are one of the most important early Christian monuments of worship in the world. Early Christians used these as a burial site as well as a place of worship and protection from persecution by the Romans. They were only re-discovered in 1844 and systematically researched in 1928. Recent excavations between 2007-2009 revealed even more areas. However, only a relatively small portion of the complete catacombs is accessible by the public. But what is visible is quite amazing. This site is considered by many to be the biggest tourist drawcard of the island.
After Gina showed us to a nearby secret catacomb that no one else knows about. It's so secret, that even she had a hard time finding it. Peeling back a layer of non-descript bushes revealed a clandestine cave opening. I'm not allowed to share with you the exact location, but it was pretty cool seeing what an unpreserved structure, with no tourist traffic looked like.
Klima & Museum
The next stop was at Klima, a small fishing village just north of the island's capital. We saw the discovery location of arguably the world's most famous statue – Venus of Milos. Nearby an ancient Roman amphitheatre was under restoration, with beautiful views of the bay.
On the theme of history, we drove to Plaka and visited the Milos Museum, which held a number of intriguing artefacts found around Milos dating back as far as 3200 BC. As you enter the building, you can't miss the plaster cast replica of the iconic Venus. The original statue was taken by the French when it was discovered, which is another whole saga (it is now displayed in the Louvre Museum, Paris). Interestingly, the Venus statue was made of marble from Sifnos, which has a particularly unique property in the way it conducts light. It's one of those things that can't be explained, even with a photo. You'll have to see it in person to fully appreciate the beauty of this marble. But I'll just say that it glows.
The museum is housed in a small neoclassical building and contains a large collection of obsidian (volcanic rock), which was used for tools and weapons.
The museum follows the history of Milos through the ages and the artefacts are very well organised. If you come to Milos for more than the beaches, spending 45 minutes slowly strolling around this beautiful building will be an easy way to grasp the richness of the island's history.
Paliochori
After leaving Gina and Marc, we drove to the south of the island to Paliochori. Here we enjoyed a lunch at Sirocco on the beach. The restaurant's playground grabbed the attention of Mia and Caius while Erin and I relaxed.
Hivadolimni
On the way back to our hotel we stopped by Hivadolimni beach for a little while. It's a flat, sandy beach situated at the southern end of the bay of Milos. There's not much in the way of parking here, so we just stopped the car on the side of the road. We virtually had the beach to ourselves and the kids played in the calm waters.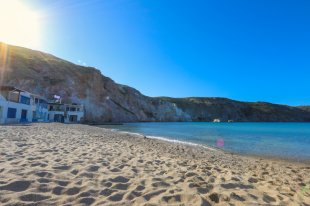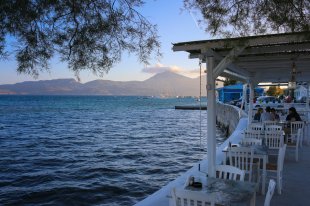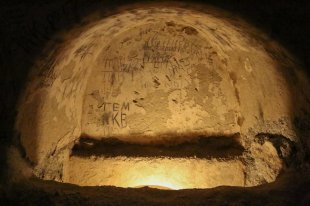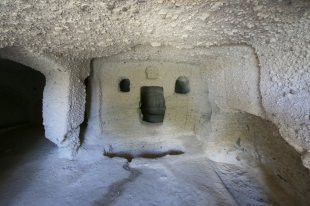 Source: travelwithbender.com