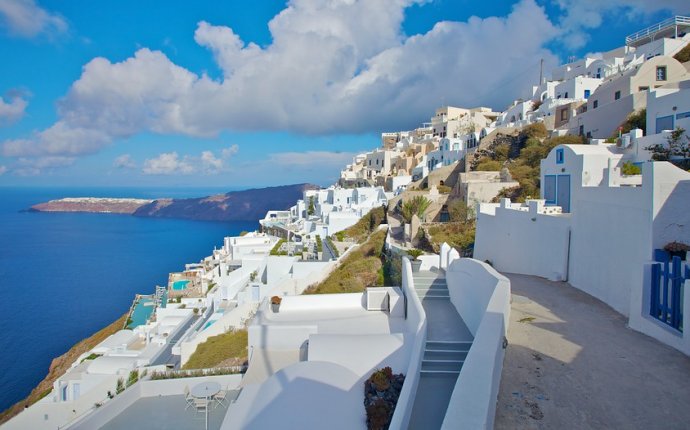 Santorini Greece Holidays All Inclusive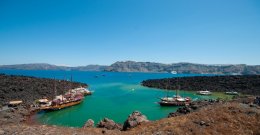 We compare prices from leading holiday companies so you can find the best deal for you.
Gaze at jaw-dropping scenery
Santorini's defining feature is its magnificent caldera, which was formed more than 3, 500 years ago by one of the biggest volcanic eruptions in history. The island is still an active volcano, with rugged lava cliffs towering 300m (984ft) over the deep blue waters of the caldera below.
Walk along the edge of the caldera, following the path from Fira to Oia, for the best perspective on the island's magical landscape. Santorini's red and black sand beaches are also memorable, and its photogenic sunsets are justifiably famous around the world.
Explore the island's charming towns
Most travellers who score cheap Santorini holidays will find themselves staying in the capital of Fira, which offers wonderful views over the caldera and a buzzing atmosphere.
But with its cubical white houses and domed churches, the town of Oia is perhaps the island's star attraction. Its iconic sunsets and quieter ambiance make it a mecca for handholding honeymooners. Head inland to visit lesser-known villages such as Megalochori, Emporio and Pyrgos, where traditional Greek culture still thrives.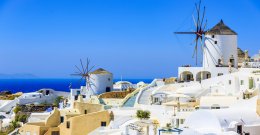 Discover the ancient past
Home to a number of intriguing archaeological sites, Santorini is a rewarding destination for the culturally curious. The most impressive site is Akrotiri, a Minoan town preserved for millennia under volcanic lava.
Ancient Thira is also fascinating, with a history that stretches back to the 9th century BC. For true history buffs, the excellent museums in Fira are great places to find out more about Santorini's rich history.
The best time of year for all-inclusive holidays in Santorini is late spring or early autumn, when the sea is warm enough for swimming and temperatures average around 25C (77F). Crowds are minimal and it's possible to nab cheap deals on Santorini hotels too. Just don't plan to go in late autumn, as facilities begin to close down and the weather can be wet.
If you can, it's best to avoid the peak travel seasons of July and August when booking your package holiday for 2017. Temperatures hover around a scorching 30C (86F), prices for hotels and other services are at their peak, and the island is swarmed with crowds of tourists. Unsurprisingly, it's difficult – but not impossible – to find decent all-inclusive deals in Santorini during this time of year.
Santorini Jazz Festival: Founded by two local jazz enthusiasts, this fun event is held in the town of Kamari every July. The festival is well known throughout Greece, and attracts musicians from around the world.
Source: www.travelsupermarket.com