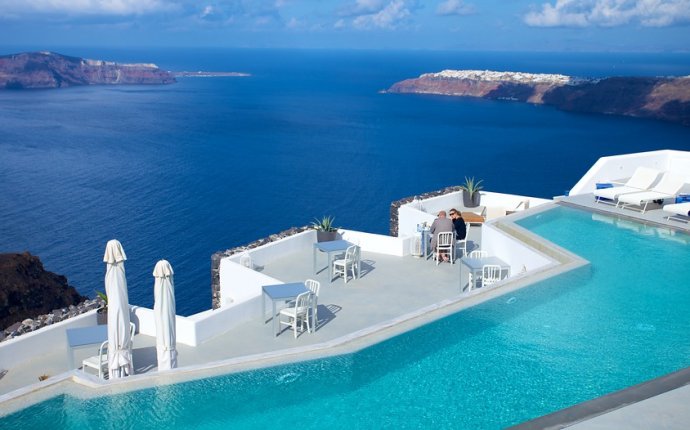 Santorini Greece Resorts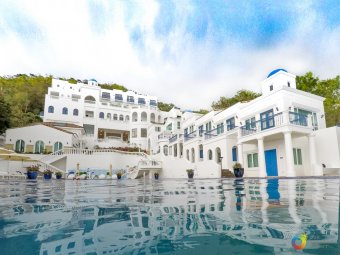 By Abigail Javellana
Camp Netanya Resort & Spa is a luxurious Greek-themed resort situated on the tropical paradise of Anilao, Batangas.
Here you can enjoy a little piece of Greece-soak in their pools, indulge in their Mediterranean fare, stay in their Santorini-inspired villas-all with a touch of warm Filipino hospitality.
We love the resort for its family friendly atmosphere, the amazing sunset view by the gorgeous infinity pool, their delicious food, its access to Anilao's world-class snorkeling and diving sites, the relaxing hike up Mt. Gulugod Baboy, and the fun activities for the whole family to enjoy. Did I mention, it's just about two hours away from Manila?
Here's a photo essay of our stay...
HOW TO GET HERE (website)
By Bus: Catch a bus bound to Batangas in bus terminals in Cubao/Buendia. From the stop, you can ride a jeepney to Mabini, Batangas. Go down to the Mabini Crossing, and from there you can take a trike to Camp Netanya Resort. The local drivers will take you there.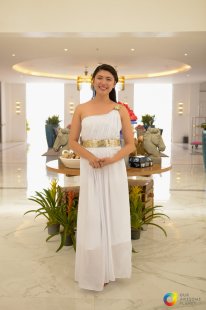 By Private Vehicle:
Get on Metro Manila Skyway from Magallanes EDSA, Continue to Lipa.
Take the exit toward Lipa City from Batangas – Quezon Rd/Calabarzon Expy.
Continue on Batangas – Quezon Rd/President Jose P. Laurel Hwy.
Take Makalintal Ave to Bauan – Mabini Rd/Mabini Circumferential Rd in Mabini
Our Camp Netanya getaway starts when those iconic blue doors open and a goddess welcomes us with drinks.
THE POOL
Camp Netanya offers a 25-meter infinity lap pool overlooking the unspoiled beauty of Balayan Bay. The best time to swim is late in the afternoon where you'll get to witness a grandiose sight of the Anilao sunset.
The pool varies from a 3-ft deep kiddie pool down to a 12-ft area perfect for those practicing intro diving.
THE ROOMS
Superior Double Queen (P11, 415-P14, 092)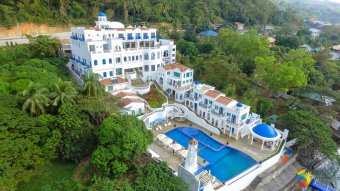 The Santorini-inspired bedrooms offer modern comfort and minimal design. We liked how the rooms give off a relaxing feel.
The room is good for four people with two queen beds.
Superior King (P10, 377-P12, 811)
The Superior King offers the most beautiful space in the resort. Located on top of the Mezzanine, you get a magnificent view of the Balayan Bay sunset.
The luxurious beds are a dream, all covered with white fluffy pillows and sheets. Perfect for a couples getaway.
Master Villa (P45, 199 - P55, 801)
We stayed at the blissful Master Villa. It's the biggest accommodation in the resort that houses up to fourteen guests.
It is complete with five bedrooms, a sala, dining area, kitchen, living room, and a terrace overlooking the pool area.
The designs and furniture of the rooms give you a feel of living in a real home in Santorini.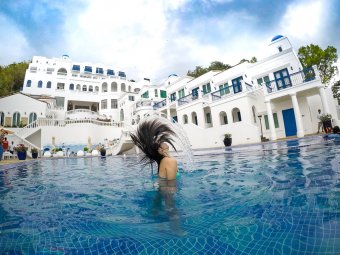 The dining area is the perfect venue for having room service delivered to your room, right after a tiring day in the pool.
There are five queen beds and four twin beds in the villa.
The luxurious bathrooms are huge with some having their own bathtub and a separate showering area.
They also have complimentary toiletries like shampoo, conditioner, soap and toothbrush.
BREAKFAST
You can have your breakfast upstairs at the Greeka restaurants or have it served in your room. They have a selection of Pinoy favorites as well as American and Continental Breakfast menu items at P250.
For the Filipino Breakfast, you have a choice of either Beef Tapa, Pork, Tocino, or Daing na Bangus. Served with eggs, garlic rice, atchara, and brewed coffee or juice.
I love eating fish for my breakfast; I ordered daing na bangus with scrambled eggs.
American Breakfast
Choice of Bacon, Sausage or Sweet Ham. Served with toasted bread, eggs, and brewed coffee.
Continental Breakfast
Fresh Fruits, toasted bread with butter and two kinds of marmalade.
LUNCH AT GREEKA
Greeka Menu: Appetizers | Pasta | Main Course | Filipino Favorites | Breakfast | Dessert | Beverages
For lunch and dinner, we dined at Camp Netanya's very own Greeka restaurant. Take your taste buds on a journey of flavors with their Mediterranean, Greek, and Filipino fare.
The restaurant also offers a fantastic view of the sea and the sunset!
Here are our favorites from their menu...
Greek Salad (P240)
For the salad, I'd recommend ordering the Greek Salad consisting of mixed greens, tomato, cucumber onion, black olives, crumbled feta cheese with lemon vinaigrette dressing. A very refreshing salad with a generous amount of feta cheese.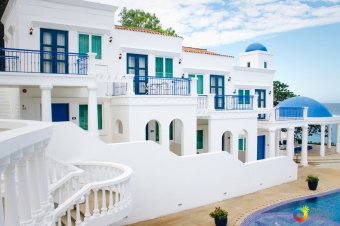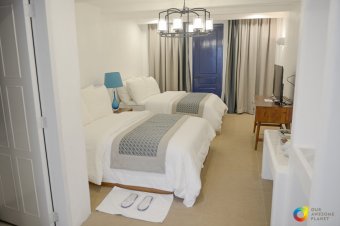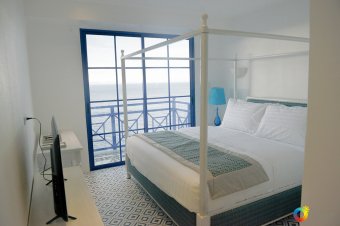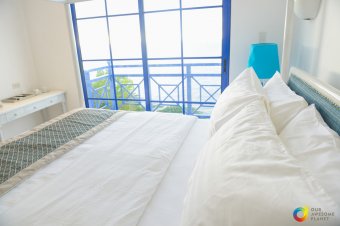 Source: www.ourawesomeplanet.com