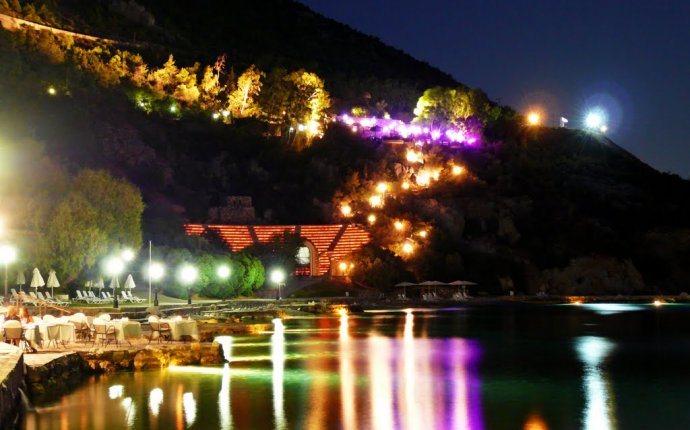 Poseidon Resort Loutraki Greece
I guess I should leave you with some practical info on Loutraki since this is supposed to be a travel guide. There are lots of hotels of various catagories and you can book these with George my work-a-holic friend at Fantasy Travel though because it is a resort area mostly known to Greeks and Greek-Americans there probably won't be any info on the agency website. But you can just use the contact form and tell them you have your heart set on Loutraki and they will understand you are not the typical tourist and they will find a nice hotel for you, probably at a discounted rate.
There are also lots of hotels at Booking.com's Loutraki Pages with customer reviews, photos and maps. Of course if you have money to spare or someone else is paying for it, your first choice will be the 5-Star Hotel Club Casino Loutraki, right on the beach, with the best breakfast buffet in Greece. If it is full there is also the 5-star Poseidon Resort Hotel which is a whole complex on the sea on the outskirts of town. A step down are the 4-Star Park Hotel Loutraki, and the 3-Star Vassilikon Hotel and the Hotel Mantas, all within walking distance of the beach and the casino. The Three Star Hotel Pappas on an organized beach with umbrellas and sunbeds, features an outdoor swimming pool and accommodation with a balcony with mountain or sea view. Two star hotels include the Hotel Bretagne, Hotel Marko and the Hotel Galaxy, with very low rates regardless of the season. The Diolkos Studios provide spacious accommodation with balconies overlooking the sea next to the casino.
Getting to Loutraki
As for getting to Loutraki there are buses to and from Corinth that run every twenty minutes and there are 8 buses a day to and from Athens. The Proastiakos also runs from Venizelos Airport in Athens to Corinth and takes a little more than an hour. It connects with the metro so you can get just about anywhere in Athens.
You can also contact George The Famous Taxi Driver at A transfer from Athens Airport to Loutraki should not cost much more than 120 euros and if you are three or more people sharing the cost it won't cost much more than taking the train since you will probably have to take a taxi to your hotel anyway.
What to Do and Where to Eat
Being a Greek resort town rather than a tourist town usually means that finding a good restaurant will not be a problem. (Anyway I hope that is the case because the restaurants that George recommends don't want to be on the website because they are already too busy. But if you ask George he may tell you and if it is a Saturday night you may even see him there). Giannis, a seafood taverna on E Venizelos Street is one of the most popular restaurants, is inexpensive and serves good sized portions. It is recommended by travelers and Greeks so it is probably a good bet. ThallaSea is a fish-taverna, mezedes restaurant at 5 G Lekka Street opposite the small port of Loutraki near the Thermal Spa prides itself in having fresh fisb as well as brizoles, loukaniko and other meats grilled to order. With a view of the sea and a good collection of ouzo and even micro-brew beer, and big enough for baptisms and parties, it is not your quaint seaside taverna. On the other hand they have live Greek music on weekends, so it is worth checking out. Anyway there are restaurants and cafes along the waterfront and you should not have any trouble finding something you like and a nice place to hang out.
Other activities besides eating, drinking and gambling include bike riding (there are bike rentals available in town), watersports like paragliding, jet skis, wind surfing, and you can even rent a small boat. There are also helicopter tours available and for those who really crave excitement you can bungee-jump into the Corinth Canal. You can also take cruises through the Corinth Canal on the excursion boat Anna. And don't forget the Loutraki Thermal Spa if you want to be rejuvenated.
Source: www.greecetravel.com