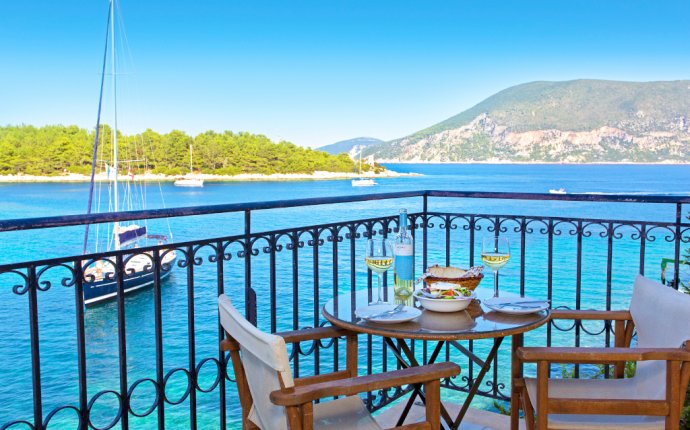 Holiday apartments in Greece
If you're looking for somewhere to say on holiday, then at HomeAway we have a great range of villas in Greece to choose from. Its many islands and excellent infrastructure make it a classic sun, sea and sand destination, but there are also countless historical sites and some stunning national parks to discover. Often whitewashed, many Greek houses are traditional on the outside, but with thoroughly modern interiors. Just take a browse and pick the facilities that you would want from your villa. Most of our Greek holiday homes come with air conditioning, but many also offer more luxurious features like private pools and gardens with barbecues.
Things to do in Greece
Gastronomy - Greek cuisine is based on fresh ingredients; especially seafood and tomatoes and being Mediterranean, olive oil is widely used. A host of dishes have become international staples, like Moussaka, stifado and choriatiki. Wine has been produced here for millennia; Naoussa and Drama are the best places to find some excellent red wines.
Archaeological heritage - There's an incredible wealth of history in this country, with a total of 17 UNESCO World Heritage Sites. You don't need to be a history buff to admire sights like Olympia, Delphi and the Acropolis of Athens and Knossos, where ancient theatres, temples and military structures have been preserved.
Beaches - Greece has more than 13, 500 kilometres of coastline, and beaches to suit any taste, 375 of which are Blue Flag rated for cleanliness and amenities. Some of the best can be found in Lefkada and Kefalonia, while portions of the Crete and Dodecanese coastlines are also immaculate.
Natural landmarks - There are 12 national parks in a country with a wide range of eco-systems and diversity of terrains. You'll never be far from something spectacular; if you're on Crete why not make for the breath-taking Samaria Gorge, which is 16 kilometres in length and offers views you'll remember for a lifetime.
Outdoor activities - If you're on the coast or inland there will always be something to do. Resorts, whether large or small, will offer water sports centres featuring motorboat or canoe rental. On dry land there's an ancient network of stone footpaths that connect many towns and villages, snaking through olive groves, vineyards, past gorges and crossing mountains.
Weather in Greece
The Greek climate is mostly Mediterranean, but can vary around inland regions due to the dramatic topography. If you're visiting a coastal resort in Greece be ready for outdoor temperatures that hit 30 degrees or more during the day from June to September. The remainder of the year in these areas brings a mix of moderately warm and mild weather; highs on Crete in mid-winter can still reach the upper teens in places. If Crete is somewhere you are interested in visiting we have a selection of villas in Crete for your perusal. In areas such as Thessaly, Thrace and Macedonia winters are cooler, with occasional snowfall, while there are Alpine conditions on tall peaks like Pindus.
Travelling to Greece
Greece is a country with 15 international airports, distributed across both the mainland and islands. Greece holiday homes that are in major tourism destinations will be situated close to a transport hub – Rhodes, Crete, Kos, Kefalonia and Corfu can all be reached from a host of cities in the UK with low-cost airlines. Smaller Greek islands can be accessed via regional airports or ferries. The transport infrastructure in Greece underwent extensive modernisation during the 90s and 00s, with major improvements to the road and rail networks, and new lines constructed for the metro system in the city of Athens.
Source: www.homeaway.co.uk