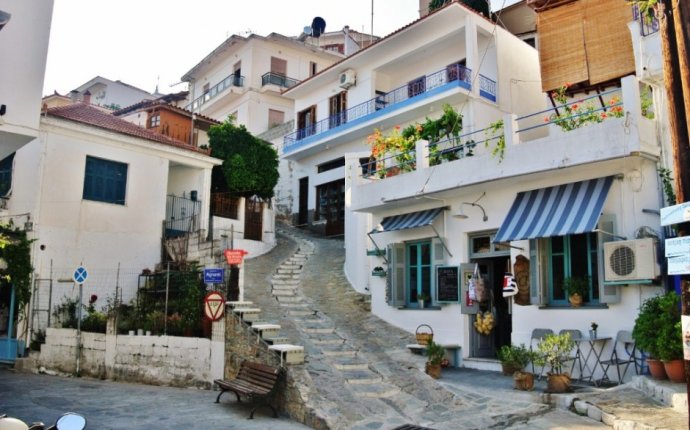 Glossa Skopelos Greece
Understand[edit]
Glossa sits high on a hill on the northwest side of Skopelos, the opposite end from main Skopelos town. It faces across the Mediterranean sea to Skiathos and down to the small harbour of Loutraki. Glossa is still an area that appears to have not yet been discovered by mass-tourism and with it's steep cobbled alley-ways, flanked by traditional houses, trailing bougainvillea and firmly-adhered-to siesta, you will delight in this truly Greek experience.
Climate[edit]
The temperature is slightly cooler in Glossa than in Skopelos town due to its hillside location. In the height of summer the days are long and hot, in spring and Autumn you will need little more than a cardigan to keep away the cool morning and evening breezes and winters are generally mild - although snow does descend on Glossa every few years.
By Boat Loutraki (Glossa) is the first stop both from Skiathos harbour and the mainland. If you are lucky enough to arrive at night you will be mesmerised by the sight of Glossa: strings of twinkling lights strung delicately across the hillside.
Glossa is a 15-minute boat-ride from Skiathos and 3 hours from the Port of Aghios Constantinos.
If you have baggage then you will need to take a taxi (about 5EURO) or bus from the port to the village of Glossa.
Get around[edit]
By foot With just 1, 000 houses and only a few alleyways accessed by car, Glossa is a small village easily (and best) explored by foot.
By Bus There are several buses each day that leave from the bottom of the village and take you to the port of Loutraki (10 minutes) and the many beaches and villages dotted along the coastline before finally arriving at Skopelos town (1 hour).
Itineraries[edit]
You could spend a few hours first exploring the beautiful architecture of this traditional town. Colourful balconies, interesting ruins and fascinating houses can be found as you wander through the myriad of charming cobbled streets.
Take a stroll down to Loutraki harbour (30 mins) for a swim in the crystal blue Aegean waters, but make sure you get the bus back if you're not up for a hike!
However, walking is a big pastime in this area with an array of flora and fauna to be appreciated at varying times of year.
This is a good place for birdwatchers in the spring. Some of the birds seen in 2009 include: Hoopooe (late March / early May), Bee Eaters (mid April / late June) Golden Oriole (late April / early May), Red Backed Shrike (mid May).
Take a bus to Skopelos Town for souvenir shops and cafes where you can sit and watch the comings and going of this delightfully Greek white washed harbour. Spend an evening there in on of its many lively tavernas and enjoy some traditional bouzouki music.
In Glossa there are three Cafes - Restaurant one grill house, one souvlaki bar, two tavernas three cafe bar.
(Since 1953, next of the city hall), Glossa Skopelos (Old town of Glossa), ☎ +76, [2]. 0900 - 2300. This restaurant first opened its doors in 1953, and the current owners Stamatis and his son Nikolas, still provides some of the best food and wine on the island. The cooking is lighter and finer than you will find in the hearty tavernas of Skopelos, and includes dishes like sea fennel salad, steamed Octopus marinated in vinegar and crisp pork belly dressed with sweetish mustard sauce. Agnanti is Sponsored and Approved by EC.
Source: wikitravel.org