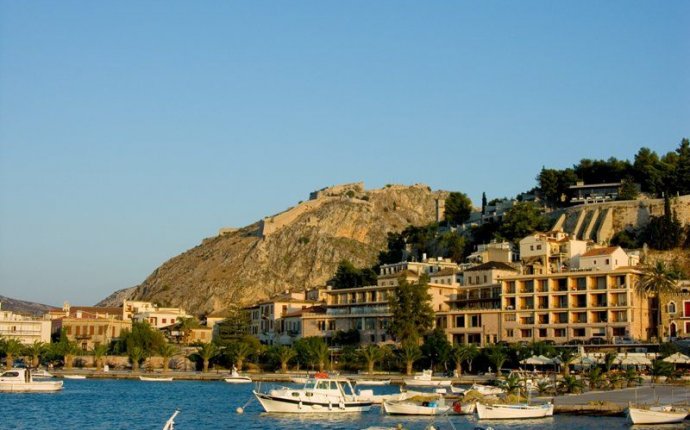 Day Trips from Athens Greece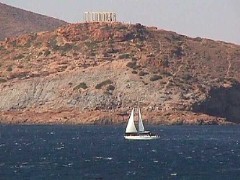 Got some extra time in Athens? Seen the Acropolis? Walked through the Plaka
Rafina
One of my favorite places is Rafina on the other side of Mount Pendeli and Himitos. It's like driving to an island. Every year I visit Athens, whether it is summer or winter, I make a point to spend one afternoon in Rafina. If I can't get my family or friends to come I go alone. But it's almost like a pilgrimage for me. There are numerous restaurants that specialize in fried squid (kalamarakia), small fried fish(mareedes), shark with garlic sauce (galeos me skordaya) and other things from the sea. The most popular one is Agoni Grammi, the last one on the dock or the first one you come to when you get off the ferry. If you love fried fish, beer, ouzo, wine and afternoons where you can drink and relax and not worry about tonight or tomorrow, spend an afternoon in Rafina.
There are ferries going to the Cyclades and Evia, going in and out of the harbor and lots of fishing boats. It's just like being on an island. There is a long beach there that is usually only crowded on Sunday. The town itself has a few too many apartment buildings for my taste but the waterfront is nice. There is nothing like spending the day with some close friends, some fried fish and several bottles of ouzo.
If you are going to the Cyclades islands the boat trip is two hours shorter from Rafina and boats leave later in the day though if you are coming from Athens you will lose most of the time you save. In the summer it's a very busy port with ships going in and out and the restaurants full of people. In the winter it is much quieter and much more enjoyable. The plan is that now that nearby Venizelos Airport has been completed, many people going to the islands will be leaving from here and the port of Lavrion further south, where they have done extensive expansion of the harbor. There is also a catamaran that makes it to Mykonos in less then 2 hours. The town has a fishing fleet and there are several fish markets with the freshest of fish and the biggest crayfish I have ever seen.
There are a couple ways to get there. The easy way would be to call my taxi driving friend and invite him to be your host. If you split the cost between three or four people it will be quite inexpensive and you will have George there for translations and advice, not to mention entertainment. (Get him to stop at the Sanctuary of Artemis on the way back) For more info on George see his bus . Take the metro to Victoria Square and walk up Heiden Street at the top of the square. The first large street you will come to should be 28th of October Street. If it's not you are walking in the wrong direction. Keep going up Heiden until you come to Areos Park and can't go any further. Find the bus that says Rafina and get on the one that has passengers on it. It's a forty minute drive depending on traffic. They usually leave every half hour. Another option instead of the metro is a yellow trolley from Venizelou (or Panapistimiou street) Take the number 18, 13, 11, 5, or 3 and get off at Alexandras Ave, just beyond the Archeology museum. You will see the park and the buses one block up. In Rafina the bus will let you off in the harbor. Traffic can be heavy at certain times. Going there on weekends can be hell. Go during the week and leave Athens early on days when the stores close at 2.
Actually these days Rafina is not a bad place to base yourself since you can easily take a bus or taxi into Athens and see the sites and then come back for a swim and dinner. The (photo) is a Three-star hotel convenient to the ferries to the islands. Other hotels in the area include the Hotel Aquamarina, the Hotel Mati, the Cabo Verde, the Myrto Hotel, the Attika Beach Hotel and the Miami Hotel, all on the beach in the area of Mati just a couple kilometers from Rafina.
Vravrona
In between Loutsa and Porto Rafti is the town of Vravrona or Brauron, known for the giant resort Hotel-Spa Mare Nostrum. Its also known for the 6th Century BC Temple of Artemis in a beautiful setting right by the crossroads from Markopoulo. Monday it is closed, in fact I must always go by there on Mondays because the last three times I have seen it I have had to take photos from the other side of the fence. But it is one of those quiet magical places you find around Greece and to make it even more attractive the area around it has very little if any development. Its all farms, vinyards, olive and fig trees as well as rocks and bushes, trees and wild plants and looks like much of Attika used to look like. If you have some extra time in Athens I would suggest maybe visiting a winery or two, taking a swim at Avlaki, stopping at the temple and then having lunch either in Loutsa (also called Artemida after the temple and sanctuary). Actually if you have a stopover for 4 or 5 hours you could probably do this in about three hours with George. (See I would say just grab a cab at the airport but then if you could not find one for the return trip and you missed your flight then I would feel like it was my fault. There is also a brand new museum here with artifacts from the area. The pay beach at Avlaki is beautiful and has a Greek island feel. Not as much as it did when it was a quiet beach with one taverna on it and you did not have to pay, but it is still as nice a beach as you will find near Athens.
The Temple of Posideon at Cape Sounion
The temple at Cape Sounion was the first and last sign of 'civilization' Athenian sailors would see to and from their journeys. It's a magnificent site on top of a hill on the tip of the Attika peninsula. Not a bad place to watch the sunset either after a late lunch at a beach side taverna and there are two pretty good ones right below the temple. The small beach has sea almost as clean as you will find on the islands. Its one of the nicest beaches within striking distance of Athens. It is split into 2 sections and one appears to be a private beach owned by the . But guess what. You can't own the beach in Greece so don't feel you have to sit in the little stretch of sand outside the hotel boundry. If you are looking for a hotel on the mainland with an island feel (even though there is no village nearby, just Lavrion which is more of a city) the Hotel Aegeon Beach is not a bad choice though it is a long way into Athens to see the sites. Again, if you are coming here on a day trip with three or more use George's taxi. Otherwise you can catch the bus at the same place as the buses to Rafina. Try to find Lord Byron's name carved in the marble. Most Travel Agencies offer a trip to Cape Sounion at sunset for a pretty reasonable price. See also my pages on Sounion.
Lavrion
Lavrion which is the closest town to Sounion, has a lively waterfront and town center full of restaurants, ouzeries, cafe-bars and a very nice fish market. In fact you should stop and see the Lavrion mineral museum as well as the ancient site of Lavrion which has one of the best ancient ampitheaters. If it were not for the silver mines of Lavrion the ancient Greeks would not have defeated the Persians in the battle of Salamis since that was how they were able to build their fleet. Lavrion is the gateway to the island of Kea, another nice place for a day trip and you can also get ferries to the Cyclades and the North Aegean Islands. They have spent a fortune upgrading the port and in the future there will be a train here since it saves two hours ferry travel to the islands. Lavrion is one of the up and coming towns and the coast around it is dotted with small coves and beaches. See my
Source: www.athensguide.com