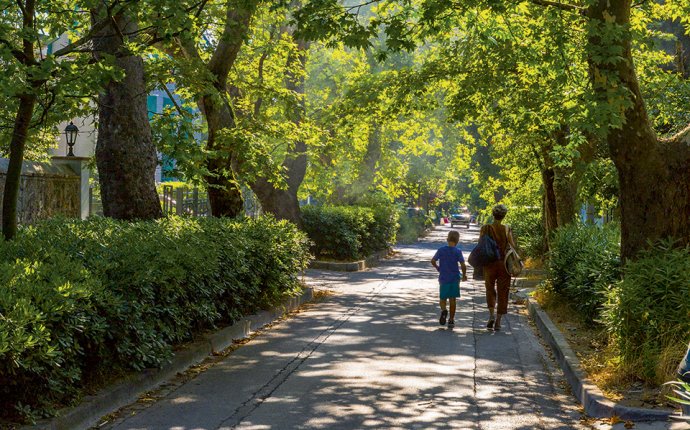 Kifissia Athens Greece
I have always wondered why more tourists don't stay in Kifissia. Probably one of the reasons that people don't come to Greece is that they don't like cities. They come from small or medium size towns or even out in the country and the idea of cities scares them. Many people who come to Greece see Athens as this obstacle they have to surmount in order to go to the islands because you HAVE to see the Acropolis, right? Being someone who enjoys the chaos of Athens I may not agree but I certainly understand it, especially after seeing photos of demonstrations in Syntagma Square and getting e-mails from travelers who wonder if there is anywhere they can stay that is not downtown and still be able to see the sights. Some people choose to stay on the coast and from there they can take the tram or a taxi in and see pretty much everything in a day and be back in time for a swim. But what about staying in the leafy northern suburb of Kifissia? There are a half a dozen buses that will get you right downtown, and the final stop of the ISAP metro is at the bottom of Kifissia Square and only takes about half an hour to get to Monastiraki Station from where you can walk to just about everywhere. You can even stop at Platia Victoria Station on the way back and hot the National Museum. You can also take the metro all the way to the ferry boats in Pireaus without even changing. And if you are not a metro kind of person you can just take a taxi from your hotel to the Acropolis or the port.
Kifissia is actually a beautiful place and street by street much nicer than downtown Athens. Besides the main square there is also Kefalari Square each of which is like a smaller version of the National Gardens, with ponds and palmtrees and interesting plants and flowers. The area is on the slopes of Mount Pendeli and has a milder climate than Athens which is why all the rich Greeks have historically had their summer houses here and many now live there year round. There are hundreds of shops, cafes and restaurants among the shaded streets and several very nice hotels. There are lots of places for young people to hang out, bars and video-game rooms, a Cinemax Theater, a bowling center, an actual mall, and as many upscale shops as you will find in Kolonaki, with horse and carriages to take you around if you get tired of walking. You can entertain yourself just by wandering around and looking at the historic villas and hotels and their beautiful gardens. In April/May The Kifissia Flower Show presents dozens of different species of flowers, from Greece and abroad, in Kifissia Park. The park holds other events from rock concerts to book fairs and other events particularly in the warm months. Drive over the mountain and you are on some of the best beaches in Attika, notably Schinias which is my favorite. But since most of the hotels have beautiful swimming pools and spas you may just want to hang out there.
Kifissia has a long history. It...
Source: www.athensguide.com