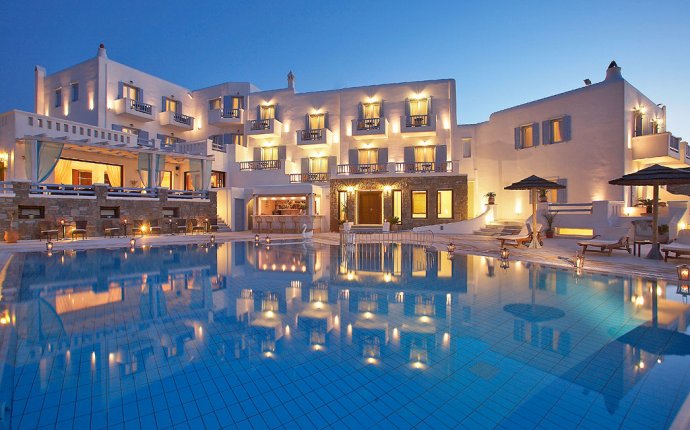 Hotels in Mykonos Greece Beach
Discover your own paradise just a few yards away from the truly unique atmosphere of the ever popular Paradise beach!
Paradise View Hotel is in a covetable location combining the ultimate in privacy, unparalleled view of the sea while harmoniously located adjacent to the beach.
It is the only hotel located in Paradise and is the ideal place for total relaxation, rejuvenation and carefree fun. Because of its location and available facilities, couples, friends and families choose our hotel for their summer vacations and short breaks.
At the Paradise View Hotel in Mykonos you will discover what you have been waiting for all year round! This quaint Mykonos hotel lies just a stone's throw from the azure crystalline waters of the renowned Paradise Beach, in the southern part of Mykonos Greece. It is just the ideal place for sun-kissed vacations, endless moments of unwinding and fun at the youthful ambience of this amazing spot.
Mykonos Hotel Paradise View is the perfect backdrop for your summer holiday accommodation in Mykonos Greece. It gives out an authentic island aura depicted at the simple lines and smooth curves of its architecture, the stone details on the external areas and the sky blue shades on window shutters and railings. The flowers and plants all around the premises of the hotel add color, creating a delightful setting!
Even more, the management and staff of Paradise View Hotel in Mykonos will go out of their way to meet your every expectation ranking Paradise View Mykonos Hotel among the favorite Paradise Beach Mykonos Hotels. In our fully refurbished Hotel Rooms in Mykonos Greece you will discover chic Cycladic-style decor and furnishings creating a cosy and warm ambiance that will allow you to wind down and get recharged.
Relax in the balcony or veranda of your Mykonos hotel room and enjoy the amazing vista to the sparkling sea or natural surroundings, dive into the refreshing pool or try the wonderful dishes served by the pool at the hotel snack bar and you will instantly realize what paradise feels like in a mid-summer's day on Mykonos Greece!
We are expecting you at the Paradise View Hotel in Mykonos from May 1 to October 10 for a unique vacation experience!
Paradise Beach, Mykonos
Paradise Beach is by far the most famous among Mykonos beaches. It is in a lovely cove lying on the southern part of the island. It is a fully organized beach with crystal clear waters, where you can do water sports, as it even has a diving centre. It is popular with people of all ages, who select it among others because of its beach bars, quaint restaurants, night-clubs and shops. It is truly an amazing spot for amazing summer time experiences!
Mykonos Island, Greece
Who hasn't heard of Mykonos Greece, the queen among summer time destinations, with the lovely gold-tinged beaches, the exciting nightlife, the upbeat atmosphere and the heart-felt hospitality? Mykonos has a lot more to offer, from tours around Delos Island and its unprecedented archaeological site to the trademark windmills – a typical image of almost any postcard. Just take a trip and discover it!
Source: www.paradiseview.gr