Syros Island Greece Map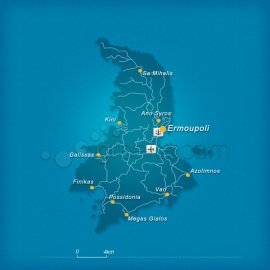 Syros is the administrative and cultural centre of Cyclades that charms everyone with its traditional colour and atmosphere. Known for its glory and prosperity, Syros is adorned by beautiful imposing buildings, grand churches and monuments from the Venetian period. Equally impressive is the traditional aspect of the island with its characteristic Cycladic neighbourhoods and neoclassical mansions.
Of great interest is Ermoupolis, the astonishing capital with the countless treasures from the island's glorious past. It is beautifully preserved and is often considered as a living museum that attracts many historians and archaeologists. The medieval settlement of Ano Syros is also captivating and romantic. The idyllic bays are worth a visit as well as its fertile valleys and natural hiking trails. Syros is one of the few examples of excellent architecture in Greece.
This section offers a map of Syros with all the major locations of the island.
Source: www.greeka.com