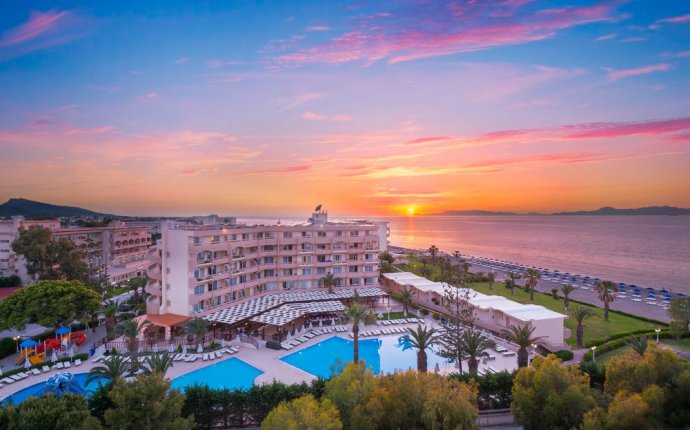 Sun Beach Holiday Club Rhodes Greece
Five holiday resorts on the islands of Crete and Rhodes are now part of leading vacation ownership specialists Diamond Resorts International's global portfolio.
Following Diamond's acquisition of Greece-based Aegean Blue Holdings last month, members will soon be able to holiday at the Crete resorts of Village Heights Golf Resort, Hersonissos; Leoniki Residence, Rethymnon; Grand Leoniki, Rethymnon; and The Village Holiday Club, Koutouloufari. The Rhodes resort is Sun Beach Holiday Club in Ialyssos, located just a short drive from Rhodes town. The views from the resort across Ialyssos Bay are spectacular and Rhodes is well known for its long hours of sunshine and mix of ancient ruins, beautiful bays, cosmopolitan shopping and lively nightlife.
Village Heights Golf Resort in Hersonissos is a luxury development of high quality apartments and villas, beautiful gardens and first-rate amenities. Set upon a hillside above the glittering harbour of Hersonissos and close to traditional Greek villages and a world class golf course, the resort offers the best of Crete – the old world and the new, a mix of beautiful beaches and charming, lost in time villages set against a backdrop of natural beauty imbued with ancient history.
The resort includes a mix of one and two-bedroom apartments and studios with a kitchen and a private balcony/ terrace, plus a spa, an 18-hole golf course and three swimming pools.
The newly renovated apartments at the Village Holiday Club in Koutouloufari are built in village style and offer a rare haven of peace and calm.
The Leoniki Residence offers accommodation in studios and two-bedroom apartments with kitchen facilities and includes two outdoor swimming pools and a poolside bar.
Grand Leoniki which opened in 2002 is a sister resort to the Leoniki Residence and features a squash court, gym, indoor and outdoor pools and Jacuzzi.
The hillside Village Holiday Club comprises one-bedroom apartments while the Sun Beach Holiday Club's beachside apartments have a bedroom, sitting room and kitchen. Balconies offer beach or mountain views.
Diamond Resorts International chairman and CEO, Stephen Cloobeck, said the expansion of the group's portfolio was being given a high priority as part of the growth strategy.
"We look forward to integrating the current Aegean Blue owners into the broader Diamond Resorts International network, offering opportunities to vacation at our more than 220 resorts in 28 countries around the world, " Cloobeck said.
Based in Las Vegas, Nevada, Diamond Resorts International has resorts in the US and Hawaii, Canada, Mexico, the Caribbean, South America, Central America, Europe, Asia, Australia and Africa
Source: www.gotimeshare.org