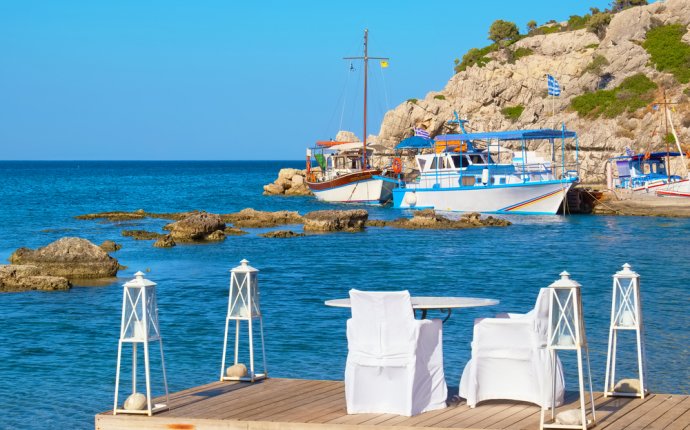 Rhodes Greece Restaurants
Archontiko: We came her our first night. This is an Ouzerie on the coast on the area called Zefiros which is the eatsern part of the city and is known for the seafood restaurants which are popular with Greeks though few tourists stumble upon them. This restaurant had a large assortment of seafood mezedes (snacks) and dishes including clams on the halfshell, fried mini-shrimp, and my favorite which was a rice and seafood dish served in some kind of conch shell. We drank the Rhodean Ouzo which was pretty good. Pretty strong too.
Mimakos: When Michalis told us we were going to a place near Faliraki we had a scary feeling that we would be surrounded by young beer drinking tourists eating mousaka and chips. But instead we drove past the popular resort town and out into the wilderness to a taverna that sat on top of what seemed to be an egg-shaped mountain that we had to drive around until we reached the summit. Inside Greek rembetika music was playing and all sorts of steaks, chops, sausages and shish-ka-bobs were piled high on tables, including ours a few minutes after ordering. Terrific local wine, I began with the red, tried the white and then could not decide which I liked better so drank them both. I don't remember the trip back to the city but I awoke without a hangover. Andrea is a vegetarrean and there was plenty for her to eat as well.
Indigo: This Ouzerie-Mezedopoulion could not be easier to be found and yet could not be in a more unlikely place. Located in the New Market at Mandraki Harbor, it is the only true ouzerie in an arewa known for its touristy grill restaurants and patisseries. The owners and as far as I could tell the only employees, Nikos and Christine, cook and serve some of the best traditional Greek and Turkish dishes that I have found anywhere. Maybe the best melitsanasalata (eggplant dip) in Greece. Big leafy delicious salads. We ate here three times during our visit, twice for lunch and once for dinner. In fact this was the one restaurant that I found on my own and we brought Michalis Axarlis and his wife Dora here. In Michalis own words: "Never would I expect to find a restaurant such as this here. I will return and not only once". I could not have put it better.
Mikes: I don't know if the restaurant is called Mikes or Mike's but we stumbled upon it one day in the old city, exhausted from the museums and looking for somewhere simple, untouristy and cheap. This seemed to be all three and we splurged and had some fried barbounia (red mullet) a large salad and some steamed mussles which never came. It is tough to find and only has around 8 tables but it is on Parados Socratous street which is off Socratous street a block up from Ippokratous Square.
Filerimon Restaurant in the town of Ialysos is run by Petros and Eleni. It is on the main road (at the Police Station) past the Ialysos Square. Very good and fresh food. This is where my friend Ana Kamais of Villas of Greece eats and she recommended it highly.
To Steki Tou Tsima. Tiny place on Peleponissou street to the south of the old town, near Diagoras Stadium. Very simple, with unpretentious Greek seafood mezedes. Its an ouzeria. One of those places you can just sit down and ask the owner to pick out a selection of the days haul. Fresh, delicious food. Recommended by Sophy Steine of Norway, a regular visitor to Rhodes.
For more restaurants visit the Guide put together by Nick Axarlis the taxi driver at Nicholas' Guide to Restaurants in Rhodes There are hundreds of restaurants in both the old and new city that are geared for tourists and some of them are probably good. I mean they can't all be bad, right? You will recognize them because they all have photographs of the food like restaurants in New York's Chinatown. Speaking of which there are lots of Chinese Restaurants in Rhodes. For deserts there are lots of cafes including those in the front of the New Market, facing the harbor, which are generally more expensive because of their location and I don't even know why I mention them since they will probably grab you and try to get you to sit down. Same goes for the Scandinavian Bakery (or is it the Swedish?) where you have to stand in line to get a pastry or a coffee in the morning. But there are plenty of other places for deserts, ice-cream, coffee drinks and snacks, scattered around the city. For breakfast we always opted for the buffet at the Hotel Mediterranean but we ordered espresso from the bar rather than drink the coffee that the waitors kept pouring. Remember that if you are a serious coffee drinker, much of what you hope to accomplish in a day depends on the strength of those first few cups.
Source: www.greecetravel.com