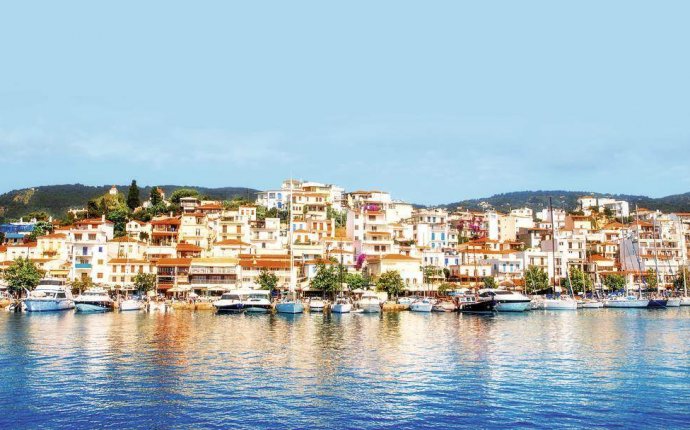 Resorts in Skiathos Greece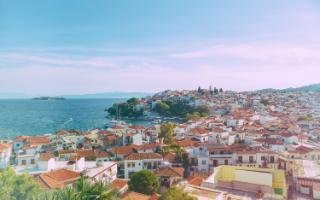 What to do
Skiáthos is the quintessential fly-and-flop island – there's not much to do away from the beaches other than watersports, hiking or propping up a bar.
Skiáthos Town
The older, hillier quarters above the old port, around the churches of Tris Ierárhes and Ágia Triáda, retain some charm with their little plazas and gardened houses, though the flatlands to the north have been blighted by tattier tourist development – and the German burning, in August 1944, of much of the town in reprisal for resistance activities. There are few specific sights, though the Galerie Varsakis antique shop on Tris Ierárhes plaza behind the eponymous church serves as a de facto folklore museum of textiles and Greek rural impedimenta.
The older, hillier quarters above the old port retain their charm Credit: astrosystem - Fotolia
Evangelistrías and around
Two-and-a-half miles (4km) from town, the schist-roofed, 18th-century Evangelistrías (courtyard and church open all day) is Skiáthos's premier monastery. In the atmospheric church, the two main icons are festooned with numerous támmata (metal votive offerings left in anticipation of a boon from the saint, or in gratitude for one conferred). An eclectic museum (unpredictable hours, but reliably shut mid-afternoon; €2) features numerous documents and photographs from the Balkan Wars – including the fledgling Greek Air Force in action – in addition to a folklore wing centred on an old bread oven.
Evangelistrías marks the start/end of a worthwhile, waymarked loop-hike – partly trail, otherwise track or asphalt – taking in Ágios Harálambos monastery and the country chapels of Panagía Kardási (detour from there to Kástro), Ágii Apóstoli and Agía Iríni, plus of course the superb landscapes of northern Skiáthos. Allow half a day-plus.
Kástro
At the northernmost tip of Skiáthos, Kástro was the island's original, pirate-resistant settlement, fortified during the 16th century; after 1830, when the fledging Greek state cleared the seas of marauders, the place was abandoned in favour of the current town. Today it's an eerie, windswept ruin with just the original gatehouse (steps replacing the original drawbridge) and four churches left standing.
Kastro is an eerie, windswept ruin Credit: aetherial - Fotolia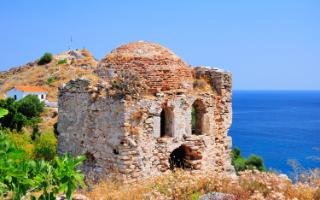 Beaches
Southwesterly Koukounariés is Skiáthos' most famous beach, and among its best. There's no permanent development at sea level, because the entire area (including the lake just inland from the pines) is a protected natural reserve. Just some scattered sunbeds, and a single water-sports outfitter, occupy the fine sand itself, lapped by clean, gently shelving sea. Parking is limited; this is the last stop on the main island bus line.
West from Koukounariés over the headland (rough dirt track access) are the two Banana beaches, Big and Little, which share a parking lot, and great sunset views. Big, not much longer than its neighbour, with slightly better sand, has sunbeds and a snack bar at its north end playing (at least in low season) halfway decent music rather than the techno and trance that's all the rage in Greece. A short, sharp path takes you over a hill to Little, also with a bar and sunbeds; the southern half has long been naturist, with cartoon signage at the car park advising prudish visitors of the 'bananas' on display.
Southwesterly Koukounariés is Skiáthos' most famous beach, and among its best Credit: Lucian Bolca - Fotolia/Lucian Bolca
Two of the best south-coast beaches are Agía Paraskeví and Vromólimnos. Agía Paraskeví (bus stop 15) musters some 400m of fine sand and pristine water. The western end is dominated by the facilities of the Skiathos Princess Hotel, but at mid-beach there are just two sunbed concessions and a watersports operator. Otherwise, spread a towel or mat where you like.
Further east, Vromólimnos (stop 13) offers some 200m of sunset-facing sand, and an unburnt, dense backdrop of pines. A thriving taverna-bar (a popular wedding venue) dominates the north end, with more sunbeds (and a water sports centre) at the south end, where a seasonal shuttle links the place with town (last departure back late afternoon). Caveat: it's hopelessly crowded in season, when a nearby hotel pre-books many of the sunbeds.
Scuba diving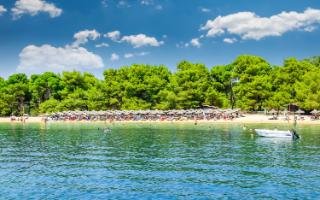 Friendly Dolphin Diving ( 999181; ddiving.gr) at Tzaneriá beach (bus stop 12) offers morning (10am) and afternoon (1.30pm) dives around the numerous islets just south-east of Skiáthos. Since 2006, many new permitted areas, totalling about 20, have been opened up. Proprietor/main instructor Manthos is excellent, and Dolphin uses a good 'dry' boat (capacity 12, with gear) or a RIB for smaller groups. Best value if you're staying awhile is a five-dive package for about €200; otherwise count on €80 for a two-tank outing.
Tzaneriá beach offers morning and afternoon dives around the numerous islets just south-east of Skiáthos Credit: Credit: Nick Hanna / Alamy Stock Photo/Nick Hanna / Alamy Stock Photo
Day trips
Round-the-island boat cruises, departing from the old port at 10am (June–late Sept), do an anticlockwise circuit via sea-caves and postcard-worthy Lalária beach with its famous Trýpia Pétra rock-arch – all inaccessible by land – before continuing to Kástro, Asélinos beach (the usual taverna stop) and Tsougriá islet for another swim. Budget €30, lunch not included.
Restaurants
The more highly regarded town tavernas cluster above the old port in the lanes beyond Tris Ierárhes, and along the coast road to the marina zone; midtown tends to be the province of the pizza-gýros-and-chips brigade.
££ Amfiliki
Many standard taverna casserole favourites are on offer, plus some meat grills, but to come here and not sample their supremely creative, regularly changing seafood recipes –cold skate with parsley and onion salad, swordfish Amfiliki (courgette, yellow pepper and caper garnish) or bráskakipouroú (monkfish in spicy red sauce) – is to completely miss the point. Light eaters will find plenty of ouzo/tsípouro mezédes; a platter of gávros marinátos (marinated anchovies) and samphire might accompany the bread, or you can order gávros saganáki, with the little fishies neatly butterflied, or steamed mussels. The wine list features top Greek labels; the budget-conscious can order bulk tsípouro (clear spirit), beer or barrel wine, especially the lovely rosé, from Lafazani vinters at Neméa. Excellent sea views from window-side tables, especially at lunchtime; a fireplace crackles in early spring.
Address: south-west edge of town, opposite the public clinic
Contact: 0 22839
Prices: €28–34 for three courses, drink extra; a big beer costs €3.50, bottled wine anywhere from €11 to €63 (mostly €20–33)
Opening times: mid-Feb to 31 Oct, lunch and dinner
Reservations: advisable in summer, as only 40 seats
Payment type: cash only
££ Ergon
Ergon, which began life in Thessaloníki, operates a growing chain of delis (there's one on London's Regent Street) pitching premium – often organic – products from every corner of Greece. Ergon outlets also double as gourmet tavernas. The Skiáthos branch is an exception to the usual visual and culinary drabness in this area, and their April–May/Sept–Oct three-course special menu has to be one of the island's best deals, giving customers access to about one-third of the à la carte menu. The best dessert is chocolate-chestnut cheesecake in a jar, with a crumbly crust at the bottom. The rather reasonable wine list is strictly Greek; there's also a small microbrew beer selection. Ergon also offers healthy breakfasts until noon, and daily cooking lessons with prior booking (11.30am–1.30pm).
Address: Papadiamándi pedestrianised lane, north side, 300m inland, Skiáthos new town
Contact: 0 21441

Prices: à la carte, €20–28 for one starter, a mains, and dessert, tipple extra; €17 low-season three-course set menu includes a glass of wine, but excludes bottled water and bread basket (you may specify wholemeal slices only). Wine €15–27 per bottle 

Opening times: 15 Apr–15 Oct, breakfast 9am–noon, lunch/dinner noon–midnight
Source: www.telegraph.co.uk