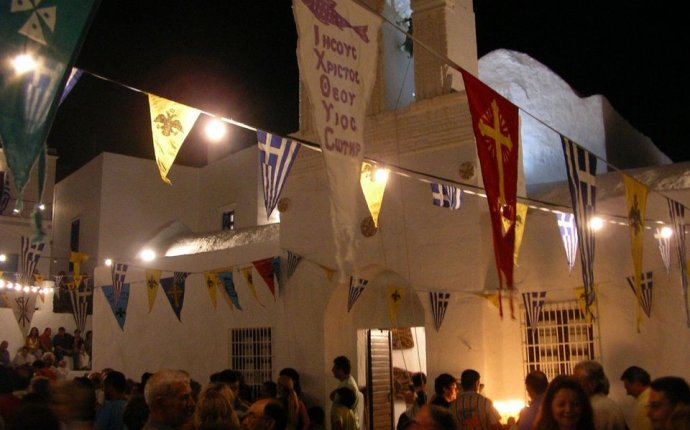 Religious Holidays in Greece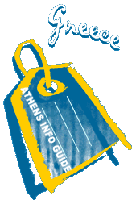 Public holidays in Greece
Although there are a few national holidays in Greece where the whole country takes a break, you should know that each island, village and city has its own holidays as well. They usually have to do with the patron saint. Some holidays are not always on the same date every year. Shops, official services as well as public services will be closed on public holidays or will have special schedules and working hours.
Greek holidays
New Year. This is the beginning of the new year when people wish each other 'Kali Chronia.'
Epiphany
National Independence day. The day celebrating the revolt against the Turkish occupation which started in 1821.
Easter Thursday
Easter Friday
Easter Monday
1 May Day. The day when Greeks collect flowers and make wreathes which they hang on their doors.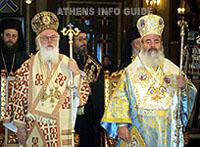 Agios Giorgos / Saint George nameday.
Orthodox With Monday
Agios Petros and Agios Pavlos day (Saint Paul and Peter Day).
Profitis Ilias. A big festival commemorated on many mountain tops where churches dedicated to Profitis Ilias (Prophet Elia) are found.
Assumptions.
Metamorfosis.
Genesis Panagias/Birth of Virgin Mary.
Tou Stavrou/Of the Cross.
Agias Panagias. Assumption of the Virgin Mary is widely celebrated, especially on Tinos Island.
Agioi Apostoli/ Holy Apostles.
Agios Dimitrios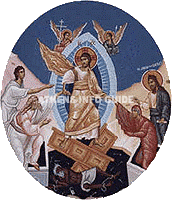 Ohi day, when the Greeks told the Italians 'No' (Ohi) in 1940.
Mihail and Gabriel day.
Agios Nikolaos.
Christmas
Bxing Day
New Year's eve when children go from house to house singing carrols (kalanda).
Labor Day/May Day (Protomayia): May 1. On this national holiday it is traditional for people to go to the countryside, have picnics, gather flowers and make them into wreaths for their homes. Many flower festivals take place all over the country.
Whit Monday (Agio Pnevma): Fifty days after Easter. This religious holiday marks the descent of the Holy Spirit to the disciples. It is celebrated with church services decorated with pennants.
Assumption of the Virgin (Kimisis tis Theotokou): August 15. Assumption Day falls within the traditional Greek vacation month when Greeks are normally on the move. So typically crowded ferries and buses become even more packed near the holiday as people travel to be near their families. The island of Tinos is a major pilgrimage destination for thousands who come to be blessed, healed, or baptized.
No Day (Ochi Day): October 28. During World War II, Mussolini issued an ultimatum to Prime Minister Metaxas demanding free Italian passage through Greece. Metaxas' response was "Ochi" which led to the subsequent battle and eventual defeat of the invading Italian army in 1940. Today, Ochi Day is celebrated with remembrance services, military parades, folk dancing and feasting.
Christmas (Hristouyenna): December 25. Although less important than Easter in the Greek Orthodox religion, Christmas is celebrated with religious services and feasting. Today there is considerable western influence with Christmas trees, decorations and presents. Throughout the Christmas season children sing carols door-to-door for a small gratuity.
Source: www.athensinfoguide.com