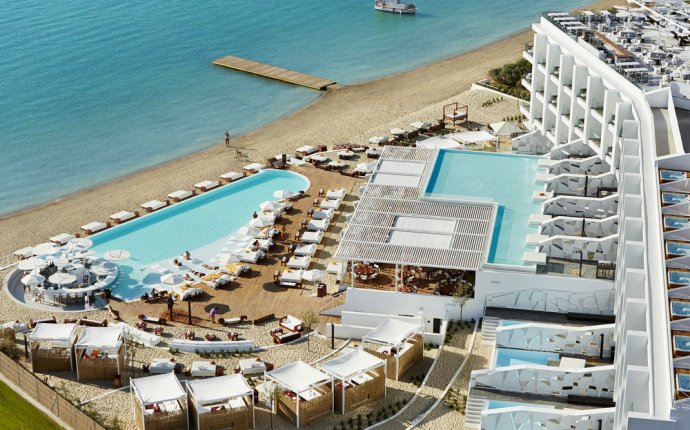 Nikki Beach Hotel Greece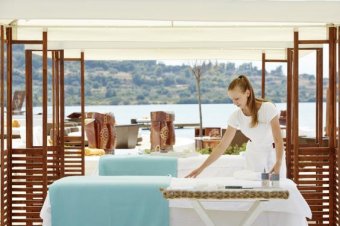 Nikki Beach Hotels are not for the spillers among us. If, like me, you are partial to dousing yourself in red wine/coffee/ink at any given opportunity, the all-white décor can be a bit intimidating. Thankfully the friendly staff, all dressed in alabaster uniforms, glide around so serenely that the hotel lobby feels like the headquarters of a futuristic cult that you might be happy to join, if someone else was picking up the dry-cleaning bill.
The Nikki Beach concept began in Miami in 1998, when founder Jack Penrod held parties to celebrate the life of his daughter Nicole, who died in a car accident. There are now 11 beach clubs in eight different countries, catering to a designer-sunglasses set who like pumping beats and plush day beds at their pool parties. Nikki Beach has become a lifestyle brand, with a clothing line, a music label, a magazine and now hotels, too. The resort had a soft opening in October 2014 and fully opened for its first summer season in April 2015 (there's one in Koh Samui, Thailand), and three more hotels are planned for Turkey, Dubai and Croatia.
But unlike Nikki Beach's usual party-hard locations (Marbella, Ibiza, Miami), Porto Heli is a smart but sleepy town on the Peloponnese peninsula, two and a half hours' drive from Athens airport, with an Amanresort nearby. Nicknamed the Greek Riviera for its super-yachts and private villas, this is where the Spanish royal family, shipping magnates and the type of people who use "summer" as a verb, come for their holidays. The financial crisis seems a long way away from here.
All Nikki Beach's 66 rooms have balconies with a sea view. Designed with Muppies (that's Millennial Yuppies, FYI) in mind, the do not disturb sign reads "Invitation Only", the personalised minibar offers iced green tea and three kinds of water, and the lights in the bed's headboard change colour throughout the day, just begging to be Instagrammed. Almost every surface in the room is either white or mirrored — there's a fine line between minimalist decor and padded cell.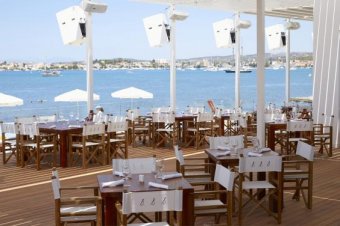 Luxury setting: the spa at Nikki Beach (Picture: Heinz Troll)
In 2003, Naomi Campbell hosted her birthday at the Nikki Beach group's infamous White Party in St Tropez. And the White Party remains a symbolic season opening event across all of the brand's clubs.
My visit coincides with Porto Heli's inaugural bleached-out bash, complete with superstar DJs, topless male podium dancers, lasers, fireworks and girls bringing out bottles of champagne with sparklers in. While Naomi had Bono and Ivana Trump, here the guest list includes Greek celebrities, Italian fashion bloggers and designers Julien MacDonald and Melissa Odabash, who conducted a photo shoot of their latest collaboration at Nikki Beach, Porto Heli. Picture a Towie cast-members' fantasy hen do but with real tans.
Post White-Party hangovers can be massaged away in the spa or sweated out with a session from a personal trainer Café Nikki serves up incredible sushi on the brand's signature wooden dragons (nope, no idea why) and breakfast comes served in jam jars with a triangle of toast so tiny even a Borrower would've had to ask for more.
Sea view: the café at Nikki Beach (Picture: Heinz Troll)
Those seeking a break from the all-day house music can make the 10-minute water taxi trip to the island of Spetses. It was once a glamorous enclave where Sophia Loren and Simon Le Bon partied (probably not at the same time). In the old harbour, masts still flutter with the island's flag which bears the words "Freedom or Death", a reminder of the Greek War of Independence which started on this island in 1821, now all too poignant as the spectre of a Grexit haunts the eurozone. The heroine of the revolution — Bouboulina — is honoured with a statue and a small museum, which is worth seeking out among the white-washed villas, overpriced boutiques and frozen yoghurt bars.
Source: www.standard.co.uk