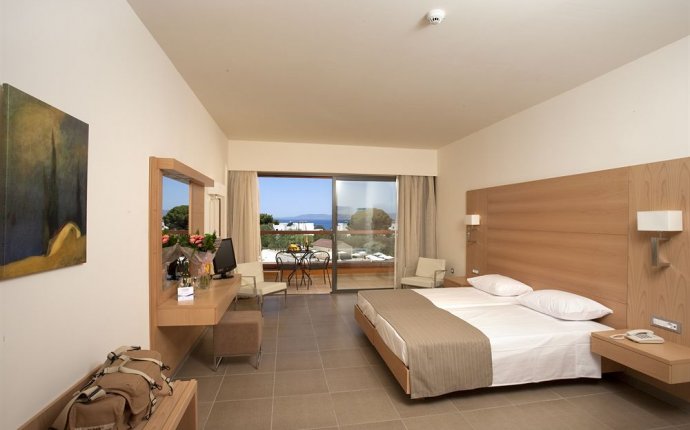 Island Hotel Greece
Imagine taking in a spectacular view of crystal clear water while sitting on the edge of a volcano-all in the middle of the Aegean Sea. Welcome to Santorini, Greece! This small crescent-shaped chain of islands offers a picturesque holiday setting. Santorini is comprised of the islands of Thira, Thirassia, Palea, Aspronissi, and Nea Kameni, all of which are filled with unique villages and culture. Thanks to the abundance of flavours produced locally, including white egg plants, cherry tomatoes, and freshly made goat cheese, Santorini is also a culinary haven. After a wonderful gastronomy experience, dip your feet in the water and then retreat back to the white, red, or black sand!
Places to see in Santorini Island
Many of the travel industry's most respected publications have, at one point or another, named Santorini as the world's top island destination—and for good reason. The "Crown Jewel of Greece, " as it's often called, came into existence due to many volcanic eruptions over the course of several thousand years. This has resulted in a unique landscape that's unlike any other island on Earth. Aside from the natural features of Santorini, the island is also home to the village of Oia, famous for its stunning sunset views and blanched buildings with distinct blue shutters.
Another popular spot on the island are the ruins of Akrotiri. Unearthed during an archaeological excavation, this ancient settlement that's known as the "Pompeii of the Aegean" was wiped out almost 4, 000 years ago by a volcanic event. The nearby Archaeological Museum of Thera houses hundreds of artefacts from this era, including some dating back several millennia. If ruins aren't your cup of tea and wine tasting is more your style, the Santo Wines Winery is sure to please your palate, as will tours to this island's other grape-based destinations. And as for aquatic enthusiasts, Santorini offers some of the most impressive scuba and snorkelling excursions in the region.
Weather in Santorini Island
As one of only two European locales that's categorized as having a hot desert climate, Santorini exclusively enjoys two types of seasons each year. The dry season, which spans from April through October, is when you can expect lows between 13 and 23 degrees Celsius and highs from the upper teens to around 30 degrees. Alternatively, the November-to-March wet season is far cooler, with average temperatures ranging from 10 to 19 degrees Celsius. Rainfall is frequent during these months, when you can expect measurable precipitation at least a couple of times each week.
Where to Stay in Santorini
Santorini is known as a romantic destination, and there are many luxury suites and villas overlooking the water where you can rekindle a relationship. The islands also have plenty of accommodation for travellers heading off on a solo retreat or a group of friends away on a fun holiday. From 5-star resorts to cave hotels, you can find your dream Santorini accommodation right here on Expedia.com.au today.
Travel Basics
If you want the Santorini beach experience, replete with time on the water and a chance to sport your new bather, consider visiting the Greek paradise in July and August. These are the warmest months, when the temperature averages between 24 and 26 degrees. The islands are coldest in January and February, when the average temperature is just 12 degrees.
Source: www.expedia.com.au