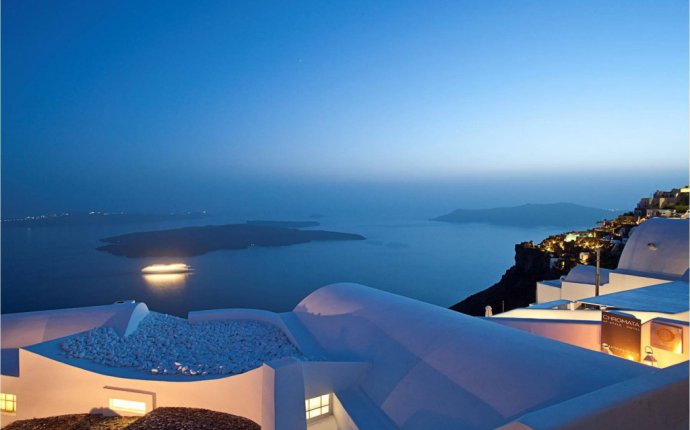 Katikies hotel-oia Greece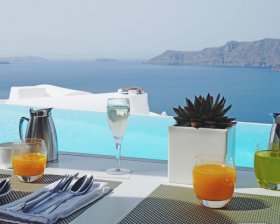 Welcome to Breakfast Wanderlust–a new Breakfast Criminals series that combines my two favorite things in the world: delicious breakfast and traveling. Breakfast Wanderlust will highligt the best breakfast experiences around the world. Have one to share? Make sure you tag #breakfastcriminals and @breakfastwanderlust on Instagram!
Before I went to Santorini for a dear friend's wedding, a handful of friends told me that I'm about to experience the most romantic place in the world. Going into the trip solo, for a moment I did think of taking on the "whatever" attitude, trying to pretend I'm blind to the reminders of all things romantic (which I ended up running into A LOT – like, there's a bride or a couple in love on every corner).
Instead, I invited my girlfriend Valke to join me, and decided to make it a "treat yo' self" kind of a trip with great food, great laughs, sunshine, dancing in the rain, homemade gelato, and… a hotel of my dreams.
Filled with impeccable, luxurious style and Greek charm, it is a boutique hotel that has been named "Top Island Hotel in Europe" and one of "500 World's Bets Hotels" by Travel and Leisure, and for a good reason. Just to get it out of the way, I'll say it now: Katikies Hotel in Santorini has been my most indulgent, pleasant and luxurious hotel experience so far.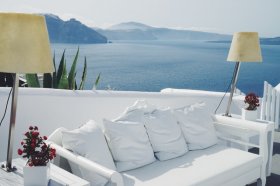 It's the combination of opulent facilities including the most beautiful rooms and stunning infinity pools, magical Caldera cliffs setting, impeccable service and excellent breakfasts (with a presentation to boot) that won me over.
The experience started at the reception–a chic all-white room inside a cave–with warm staff (thank you Alejandro and Sofia!) and homemade ginger lemonade (win!). We were led into our suite, and I felt spoilt to find out that not only each suite has a Bose surround system with a fabulous playlist for different times of the day, but we also got a cell phone to carry with us in case we wanted to use concierge services anywhere outside the room.
Onto the important things… let's talk about breakfast! Brought to your private terrace or served poolside with a side of breathtaking view, the breakfast is a combination of the freshest Santorinian fare with a hint of global cuisine, and an impressive healthy twist (they have gluten-free bread, ya'll!)
I went for a custom-built mushroom omelette topped with the most flavorful cherry tomatoes and arugula and a greek yogurt served with local honey and fruit (including the kind of all fruit – starfruit!). Valke ordered salmon (served with edible flowers), small Greek salad, and a cheese plate.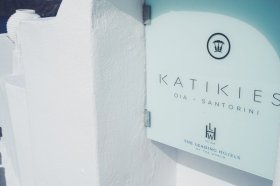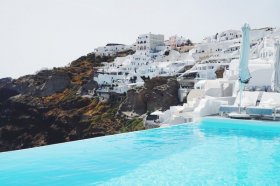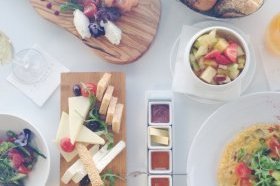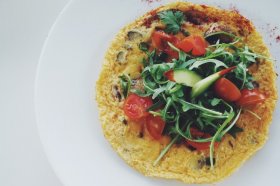 Source: www.breakfastcriminals.com