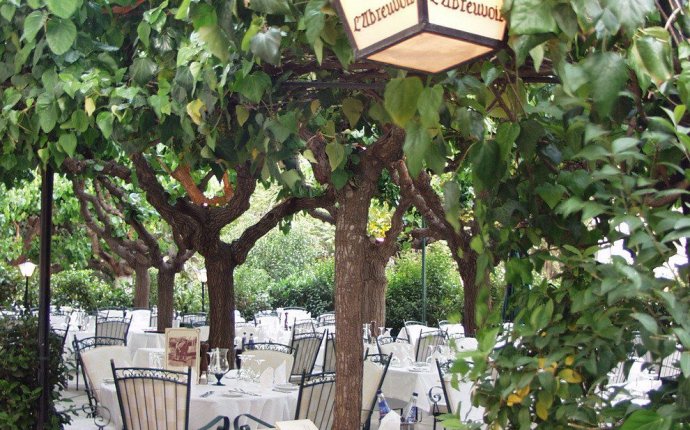 Italian Restaurants in Athens Greece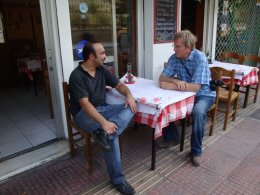 To Kati Alo
When Rick Steves came to Athens last summer and he asked me to find him a little hole-in-the-wall place that he could recommend, within walking distance of the Hotel Hera where his groups usually stay he was in luck because the night before my friend Phil LaVere, a musician-web designer who has been in Athens for at least twenty years, had turned me on to one of the best little family-run restaurants in Makrianni. To Kati Alo is right behind the Acropolis Museum and is open day and night and serves the kind of home cooked dishes and grilled meats and fish made to order, that you will find in some agricultural city like Trikala or Sparta. Kosta, the young guy who runs the place, (shown here with Rick Steves), is an articulate guy who speaks fluent English. The salads are made to order, not kept in the fridge and served with icicles like some of the touristy places. One of the specialities is grilled fresh farm-raised tsipura, a meaty fish that does not taste farm raised and for which he charges about 8 euros. Try getting a whole grilled fresh fish anywhere else around the Acropolis. He also grilles steaks, lambchops, porkchops, local sausages, chicken and usually has a couple whole chickens and kontosouvli (pork loin) turning on the rotisserie. Excellent wine from the Peloponessos and tsipiro-raki from who knows where? The menu is written in chalk on the wall. It looks pretty funky but the food is good. Check it out. Just walk down Makrianni Street next to the Acropolis museum and take a right when you reach the first road that has cars and it is across the street. Oven dishes are cooked in the morning and mostly finished by evening so keep that in mind and go for grilled meat, fish and salads.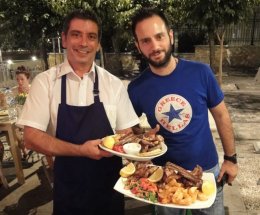 God's Restaurant and Arkadia
God's Restaurant on Makrianni Street, right next to the Acropolis Museum, has a big sign that says it has been recommended by Lonely Planet and Rick Steves. It is a typical tourist restaurant except for one small difference. It has really excellent food. We had the sausage platter which had a half dozen different kinds of sausage, how many of them Greek I don't know, nor did I care since they were all good. The feta-stuffed mushrooms were so good we ordered more. The roka salad had cheese from Mytilini. The octopus salad was excellent, as was the fava. Probably the best thing were the tomato-keftedes which are similar to what you get in Santorini except I thought they were regular keftedes (meatballs) until Andrea informed me that they were made from tomatoes. We went back the next night and had them again, along with the mixed grill.The house wine was better than the bottled wine we ordered first. Not that the bottled wine was bad, the house was just better. It is a family run restaurant, with two sons and their father who bears an amazing resemblance to God, or at least how many of us who tend to anthropomorphise God probably imagine him to look, you know, long white hair and a beard, like Santa but not overweight. Anyway theology aside this is a very good restaurant. It is small though you may not find a table but that's OK. Go next door to Arkadia which specializes in food from the Peloponessos and eat there and you will be just as happy. The waiters at both places are young, friendly and speak English.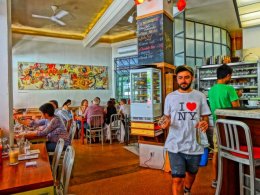 The Strofi Taverna at 25 Roberto Galli has a rooftop garden with a spectacular view of the Acropolis. You won't find a more romantic restaurant and the food is good too. (Call because you may need reservations: 210-921-4130). The best restaurant in the neighborhood that I have been to is Aglio, Olio & Peperoncino which is on Porinou street right around the corner from entrance to the Acropolis metro station which I have written about in the Italian Restaurant section below.
Mama Roux
So it is the end of your holiday and you are tired of Greek food. Yes this can happen. But you don't want to go somewhere boring. You want to eat somewhere that is better than what you are going back to at home, or at least as good if you happen to be lucky enough to live somewhere that has good restaurants. My suggestion is to walk to Aelou Street, the pedestrian street that runs parallel to Athinas Street, and go to Mama Roux at #48. They serve American bistro style food which means you can get anything from a Nicoise Salad to Lox and Bagles, BLT, Burgers, Thai Curry, Pasta, Burittos, Quesadillas, Shrimp Tacos, Chips and Saldas, Tabouli, Steak Frittes, NY Cheese Cake, and they even have Sunday Brunch with Eggs Benedict, Eggs Florentine, omelets and mimosas. At night it is a hangout with mixed drinks, wine and draft beers, some youwon't find in your normal Athens restaurant. They even have live music some nights.
The whole area around Agia Irini church is hopping at night with bars and clubs and young people so this is a good place to start your evening or come for lunch or coffee during the day. Great atmosphere...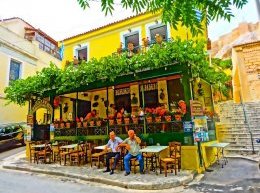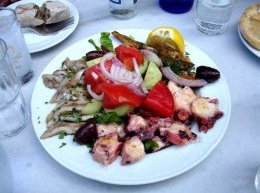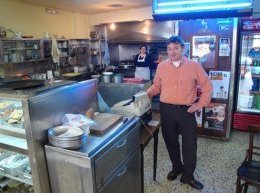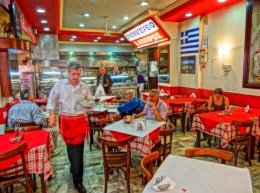 Source: www.athensguide.com