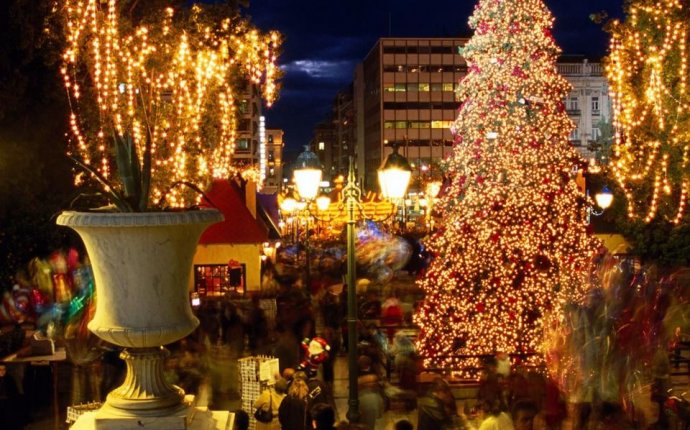 Greece Temperature in December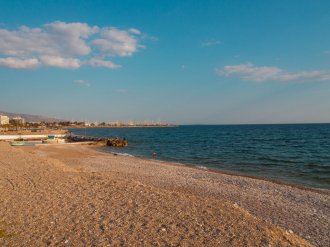 Weather lowdown
The month of December is one of the colder months of the year in Athens, but relative to much of northern Europe, the temperatures are mild, making it a great place to travel if you are in search of some warmth. The average temperature in December is 12°C (54°F), while the average low is 9°C (48°F), and the average high is 14°C (57°F). The beginning of the month brings cloudy days, with a decent chance of rain, and an average daily temperature of 14°C (57°C). The middle of December sees mostly overcast skies, a slightly lower chance of rain, and an average daily temperature of 12°C (54°F). The end of the month brings more sunny days, although still with a chance of rain, and an average daily temperature that drops to 10°C (50°F). The lowest ever recorded temperature in Athens in December is 0°C (32°F), while the highest ever recorded temperature is 20°C (68°F).
Along with cooler temperatures, there is also not much sun in December, as the average daily sunshine this month is just three hours, tied for the lowest average total for Athens. In addition to a small amount of sun, there is also an increase in the amount of rain. The average rainfall in December is 70mm occurring over 11 days, and both totals are average yearly highs for Athens. While the chances of seeing rain are the highest this month, 70mm is a small amount, meaning your trip will not be ruined by rainstorms.
The average sea temperature in December is 17°C (63°F), which is considered fairly cool and likely only enjoyed by some, and even then not for long periods of time. Considering the average high this month is 14°C (57°C) for outside temperature, chances are you will not want to go swimming anyway.
The average humidity in December is 75%, which is the highest average total for the year. However, this level is not high enough to cause discomfort, and with the cooler temperatures this month will be completely unnoticeable. There is also an average of zero snow/fog days in December, so don't plan on seeing any snow.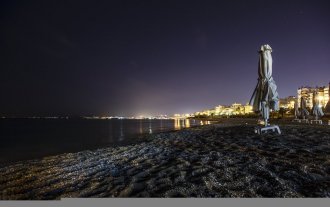 Athens beach
Where to stay
The Athens Lotus Hotel was completely renovated in 2009 and is a four-star hotel with 31 rooms. All rooms come with air-conditioning/heating, wireless Internet, and Egyptian cotton towels and sheets. Rooms vary from singles all the way to superior suites. The hotel also has a restaurant/bar on-site (serving breakfast from 7 AM to 10 AM), as well as café in the lobby. Room service and complimentary parking are also available. The hotel is a five minute drive from the city centre and just 50 metres from a metro station.
The Marble House is a family-run establishment that offers single through quadruple rooms. All rooms come with either a balcony or patio, wireless Internet, and a refrigerator among other amenities. They offer a continental breakfast for €5 a person and have both tour and car rental desks available for those who need assistance with either. The main appeal of staying at this hotel is its location, as it is walking distance to several attractions (just 0.6 km to the Acropolis). The hotel is about a four minute drive from the city centre.
Night beach at Athens
Things to do
Hellenic Cosmos Cultural Centre is both a cultural centre and a museum, and its goal is to try and understand and explain Hellenism (the period from 323 BC to 31 BC in Ancient Greece) and communicate this to its visitors in a unique way. They do this through interactive exhibitions, virtual reality, and various documentaries and films. Tickets cost different prices based on the event, but a day pass can be purchased for €15, which includes two different shows and an exhibition visit. The cultural centre is located about an 11 minute drive from the city centre.
The Greek Parliament Building was built sometime between 1836 and 1842 for King Otto I, Greece's first "modern" king. Much of the original building was burned in a fire in 1854 and due to a lack of funds and a new architect, it was not rebuilt until 1871, and at this point King Otto had be removed from the throne. The building housed Hellenic Parliament for 57 years (from 1875 to 1932). The Tomb of the Unknown Solider resides just in front of the building, and is guarded by the Evzones, who are part of the presidential guard and dress in traditional Greek attire. The "change of the guard" happens every hour, on the hour. The parliament building is just a 3 minute walk from the city centre.
Source: www.holiday-weather.com