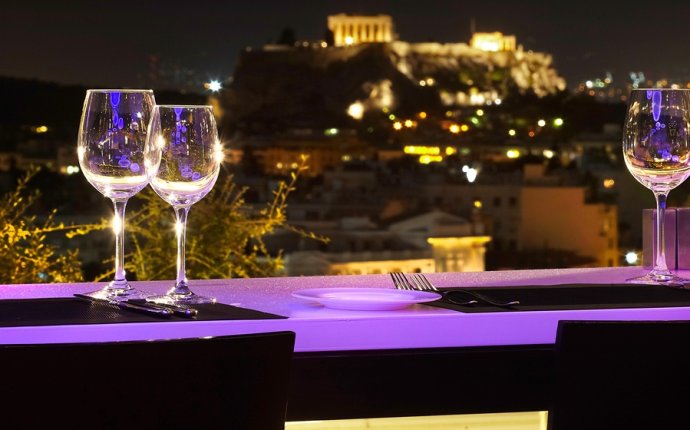 Galaxy Bar Hilton Athens Greece
Athens is not only a city with great history, but also a cultural centre with many entertainment venues. Great places to enjoy a coffee, lunch or an evening out are the many roof garden bars scattered around the city, with fascinating views to significant landmarks. Here are our suggestions of the best roof garden bars in Athens:
Grande Bretagne Roof Garden
This elegant roof garden restaurant and bar is the perfect place to enjoy a delicious meal or an exotic cocktail accompanied by smooth music and amazing views of the historic city of Athens. It is found in Syntagma Square, on top of the Grande Bretagne Hotel and allows unobstructed views to the impressive Acropolis Hill, the Lycabettus Hill, the Greek Parliament and many other important sights. Gourmet cuisine is served all day and a variety of the finest cocktails are prepared for a memorable night out.
Where: Grande Bretagne Hotel, Syntagma Square
Website: GB Roof Bar
Galaxy Bar
Ranked among the best rooftop bars in the world, Galaxy Bar guarantees a savory and entertaining experience. Going up 13 floors in Athens Hilton Hotel, you will find this modern cosmopolitan bar, where you can relish the magnificent view that stretches from Lycabettus and the Acropolis to the sea of Piraeus. At Galaxy Bar, order one of the many creative cocktails and enjoy the sophisticated music chosen by the professional DJs.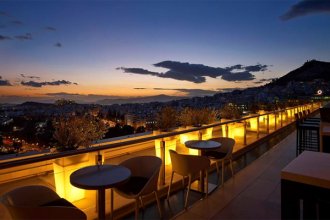 Where: Hilton Hotel, Vassilissis Sofias Avevue, 46
Website: Athens Hilton Hotel
A for Athens
One of the most popular roof garden bars in Athens, A for Athens in Monastiraki is ideal for a morning coffee or an evening drink. Take your friends or your significant other and come to try out the imaginative cocktails, while enjoying a full view to the wonderful hill of the Acropolis and the always busy Monastiraki Square. A for Athens with its welcoming atmosphere and impressive views gets crowded by young people, especially in summer nights.
Address: Miaouli st, 2-4, Monastiraki Square
Facebook Page: A for Athens
360o Cocktail Bar
Just opposite A for Athens is the amazing 360o Cocktail Bar. This excellent roof garden looks directly to the Acropolis. The view is even more spectacular at night, when the hill is lighted. 360o Cocktail Bar, with its unique industrial decoration and fantastic original cocktails, is one of the best options for a night out with friends.
Address: Ifestou 2, Monastiraki Square
Website: 360o Athens Bar
Kuzina, Thissio
Kuzina is a quality restaurant of traditional Greek cuisine met up with high aesthetics and superb views, located in the picturesque quarter of Thissio. On the terrace of Kuzina there is one of the best roof garden bars in Athens, the Tarazza bar. This is a perfect place to admire the Acropolis, the Ancient Agora and the lively pedestrian of Adrianou, while enjoying a nice drink.
Where: Adrianou st 9, Thissio
Website: Kuzina Restaurant
Thissio View Roof Garden
Experience the enchanting atmosphere and dreamy view of Thissio View Roof Garden. The bar serves lunch and dinner, a variety of coffees and drinks in a vibrant environment of unique decoration. The welcoming mood, the views to Filopappou Hill, Ancient Agora and the Acropolis, and the refreshing cocktails distinguish Thissio View as one of the finest roof garden bars in Athens.
Where: Apostolou Paul str, 25, Thissio
Facebook Page: Thissio View Bar
Gazarte
If you are interested in combining culture with cocktails, visit the terrace bar of Gazarte in Gazi Square. This roof garden bar is embellished with the scent of olive, pomegranate and tangerine trees as well as panoramic views to the Cultural Venue of Technopolis and Gazi Square. Taste the delicious cocktails, meet with interesting people, listen to awesome music and take a tour to the cinema, restaurant and mini library of Gazarte.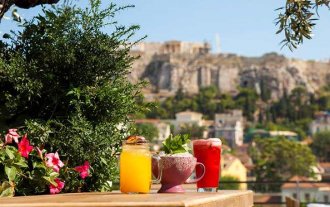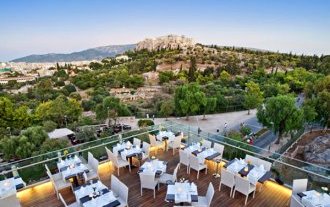 Source: www.greeka.com