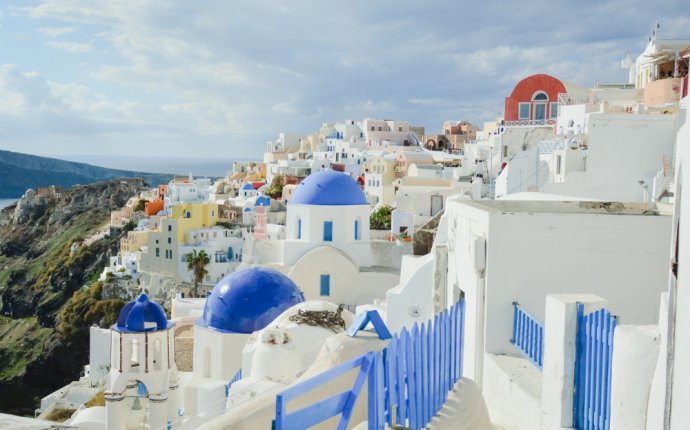 Fun Fact About Santorini Greece
Of all the Greek Islands — and there are thousands of them — Santorini is probably the one most people have heard of. And also probably the one that most people dream of visiting. Santorini is where you will find the red cliffs, black beaches, white windmills, and blue domes that adorn so many postcards. Yes, this is Greece's "postcard island."
Because Santorini is such a popular destination (including with cruise ships), however, I was a bit apprehensive about visiting. I wanted so badly to see all those windmills and churches and beaches — but I didn't relish in the thought of competing with hordes of other tourists in order to do so.
Thankfully, Santorini did not disappoint. It is just as stunningly beautiful as the photos and postcards lead you to believe — and you can easily avoid the cruise ship crowds if you time things right.
Fun facts about Santorini
Santorini's official name is actually Thira.
The island sits in the water-filled caldera of a massive volcano that is thought to have ended Minoan civilization on Crete.
Before it was called Santorini, the island was known as Kallístē, meaning "the most beautiful one."
Due to its volcanic past, Santorini has white, black, AND red beaches.
Despite a harsh, dry climate, Santorini has a flourishing wine industry.
Things to do
It would be very easy to simply find a terrace with a view on Santorini and never leave it. Sip wine, eat sweet cherry tomatoes, and watch the sun set into the Aegean each evening… But in case you actually DO want to get out and do something, here are some suggestions:
Shopping in Fira
Fira is the capital and main city on Santorini. It is where most of the cruise ships dock, and also where the ferries arrive/depart. It has a host of accommodation options, and also some of the best shopping on the island. Especially if you're looking for souvenirs, jewelry, or artwork, the narrow streets on the cliffs of Fira are where you want to be.
Source: www.dangerous-business.com