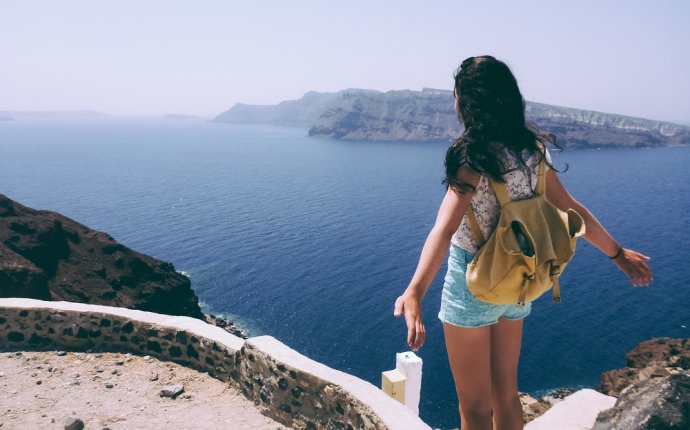 Attractions in Santorini Greece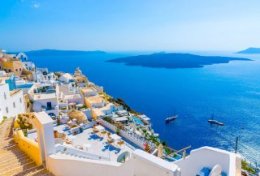 The island of Santorini (Thíra) is most impressive when approached from the sea as you sail into the massive caldera (sea-filled volcanic crater), almost totally enclosed by sheer cliffs ranging in height between 200 and 400 meters. Along the gray-black lava cliff tops, the whitewashed settlements of Firá and Oia are the island's most alluring (and most expensive) destinations. In fact, Santorini lives almost entirely from tourism, attracting visitors with its extraordinary landscape and its ancient archaeological sites. It is generally marketed as a romantic destination - popular with honeymooners, couples, and celebrities. Cruise ships sailing the East Mediterranean make a one-day port of call here.
Firá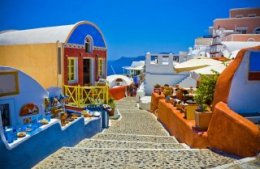 The capital of Santorini, Firá (Thíra) is made up of whitewashed cubic houses and terraces, winding lanes, little squares, and blue-domed churches perched on the cliffs 300 meters above the caldera. Below town, from the small port of Skala, Firá can be reached either by walking or riding (mules are for hire) up the steep and winding stepped path (587 steps) or by taking the cable-car. Ferries dock at the port of Athiniós, connected to Firá by road (17 kilometers), while cruise ships put down anchor in the caldera, and passengers are transported to Skala by tender. Firá lives principally from tourism, and many of its buildings are now given over to small hotels, apartments, restaurants, cafés, souvenir shops, and jewelers.
Thira (Fira) Map
2 Oia
On the northern tip of Santorini, 12 kilometers up the coast from Firá, Ía (Oia) is a picture-perfect village of whitewashed houses, several of which have been converted into chic little boutique hotels with infinity pools, overlooking the caldera. Like Firá, it lives from tourism, but caters for a more upmarket clientele.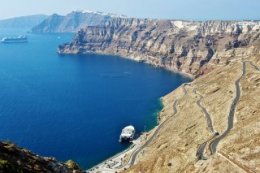 Steep paths zigzag up to town from Ammoúdi Bay, where you'll find a row of waterside seafood eateries. Oia is especially known for its stunning sunsets, which attract visitors from all over the island each evening through summer. It's possible to walk all the way from Oia to Fira following a footpath along the cliffs high above the caldera (allow three hours).
3 Caldera
Formed by the massive volcanic explosion that blew the center out of the island some 3, 600 years ago, the caldera is the sea-filled volcanic crater that remained. Measuring 12 kilometers by seven kilometers, it is still home to volcanic activity - in its center rise the two Kaiméni islets with hot springs and gas emissions. Various agencies offer one-day excursions of the caldera by boat, including time to bathe in the hot springs and then have lunch on Thirassia, a tiny island on the west side of the caldera affording amazing views back to Santorini across the water.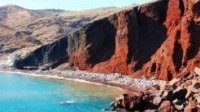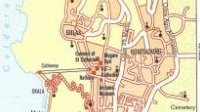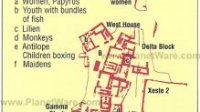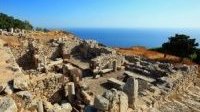 Source: www.planetware.com