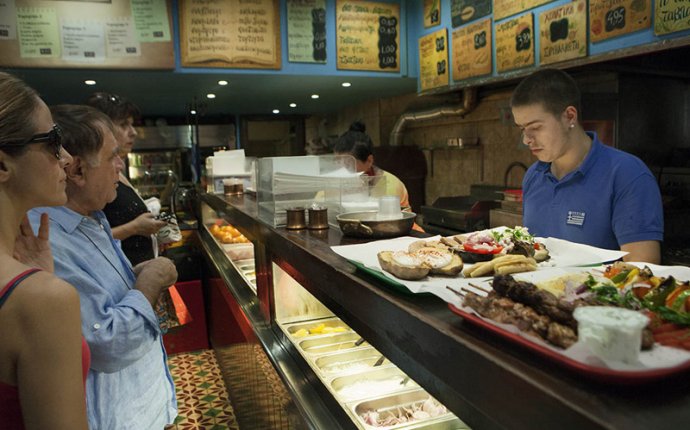 Fast Food in Athens Greece
Greece has long been a family holiday favourite with its beautiful blue waters, child-friendly beaches and abundance of flavour-packed fare. Make sure you sample all the country has to offer with our pick of delicious dishes…
Don't leave Greece without trying…

Taramasalata
A mainstay of any Greek meal are classic dips such as tzatziki (yogurt, cucumber and garlic), melitzanosalata (aubergine), and fava (creamy split pea purée). But the delectable taramasalata (fish roe dip) is a must. This creamy blend of pink or white fish roe with either a potato or bread base is best with a drizzle of virgin olive oil or a squeeze of lemon.
Olives & olive oil
Greeks have been cultivating olives for millennia…some even say that Athena gave an olive tree to the city of Athens, thus winning its favour. Greek meals are accompanied by local olives, some cured in a hearty sea salt brine, others like wrinkly throubes, eaten uncured from the tree. Similarly, olive oil, the elixir of Greece, is used liberally in cooking and salads, and drizzled over most dips and dishes. Many tavernas use their own oil.

Dolmades
Each region in Greece, in fact, each household, has its variation on the classic grape leaf-wrapped rice parcel. Eaten as a finger food, some stuffed vine leaves incorporate mincemeat with the long-grain rice, others, simply a heady combination of thyme, dill, fennel, oregano or pine nuts.

Moussaka
Variations on moussaka are found throughout the Mediterranean and Balkans, but the iconic Greek baked dish is based on layering: sautéed aubergine, minced meat fried pureed tomato, onion, garlic and spices like cinnamon and allspice, a bit of potato, and then a final fluffy topping of cheese and béchamel sauce.

Grilled meat
Greeks are master of charcoal-grilled and spit-roasted meats. Souvlaki is still Greece's favourite fast food, both the gyros and skewered meat versions wrapped in pitta bread, with tomato, onion and lashings of tzatziki. At the taverna, local free-range lamb and pork dominate, though kid goat is also a favourite.
Sample it yourself with these

Fresh fish
Settle down at a seaside taverna and eat as locals have since ancient times. Fish and calamari fresh from the Mediterranean and Aegean Seas are incredibly tasty and cooked with minimum fuss – grilled whole and drizzled with ladholemono (a lemon and oil dressing). Flavoursome smaller fish such as barbounia (red mullet) and maridha (whitebait) are ideal lightly fried.
Try making your own seared mullet or simmered squid
Octopus
Along harbours, octopus hung out to dry like washing is one of the iconic images of Greece. Grilled or marinated, it makes a fine meze (appetiser), or as an entree stew it in wine sauce and serve it with pasta.

Feta & cheeses
When in Greece, be sure to sample the vast array of fresh cheeses. Ask behind market counters for feta kept in big barrels, creamy and delicious (nothing like the one in plastic tubs in markets outside of Greece). Or, sample graviera, a hard golden-white cheese, perfect eaten cubed, or fried as saganaki. At bakeries you'll find tyropita (cheese pie), at tavernas, salads like Cretan dakos, which is topped with a crumbling of mizithra, a soft, white cheese.

Honey & baklava
Greeks love their sweets, often based on olive oil and honey combinations, with flaky filo pastry. The classic baklava is a start, layering honey, filo and ground nuts. Or try galaktoboureko, a sinful custard-filled pastry. Simply, pour a lovely dollop of local thyme honey over fresh Greek yogurt.
Source: www.bbcgoodfood.com