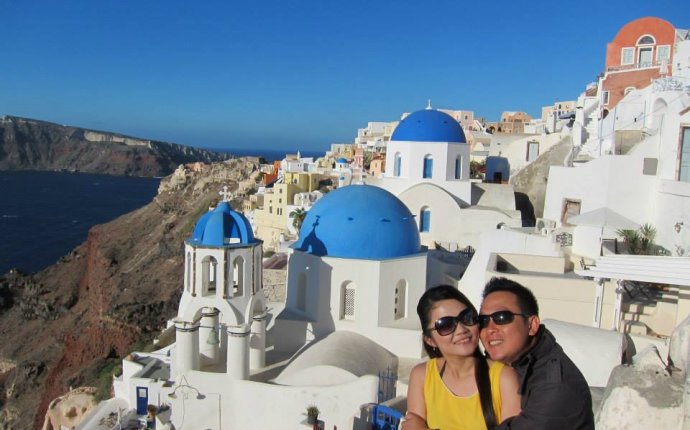 Athens Greece Honeymoon
Greece is nothing if not romantic. The Dionysian energy and the bright Mediterranean light add an element of spirituality to the already spectacular natural beauty. The simplicity of island life and the charming architecture are an ideal backdrop to any event, but the Greek lifestyle and outlook are the real deal clinchers. The cost/value ratio is as golden as anything Pythagoras could've come up with. Amazing services for reasonable prices are common. Everyone's happy.
But at the end of the day, your honeymoon is sacred. You'll want to consider your options before making your decision, and that's astute.
The sheer volume of amazing islands is scandalous. Trying to figure out what to do is like standing in front of the candy bar section in a supermarket after midnight. It's near impossible, and that's why we've decided to compile a list of the best island honeymoon destinations for you.
Santorini
Clearly, is up there at the top spot, because Santorini, that's why. The Cycladic behemoth punches well above its weight. Considering Santorini's size relative to its visitors that is no exaggeration. Like a donut with sprinkles on it, so too is Santorini's skyline; dotted with white washed houses and blue domes all along its cliff edge. It's a unique sight.
The volcanic activity in the island has collapsed the center of the caldera to form a lagoon in the middle that has therapeutic properties on account of the Sulphur. You can book a tour and find out for yourself. Other tours will take you in and around the caldera to explore it.
In Santorini, life takes place atop, at 300 meters above sea level. Akrotiri and Oia are the two main settlements and each brings something different to the table. In Akrotiri there is an archaeological site that is still being excavated after decades. You can wander in to the site as part of the tour, all while work is being carried out and see for yourself the magnificent frescoes and assorted artefacts that have been preserved since the Minoan times.
In Oia, the famous sunset is the main draw. Perched on the roofs and ledges of houses and churches, people gather for this momentous event in droves. Be sure to not be late.
Santorini has luxury brands, designer and deluxe hotels and really high end services. And that extends to the food and wine. The rich volcanic soil helps produce a stunning variety of world famous wines, including the foamy Santo, while the fresh produce such as tomatoes, capers and fava beans are hands down ambrosial. Simply Santorini.
Milos
But then, there is . The island made famous by a statue of Venus now in Paris, is sure to dazzle you with its amazing beaches and great food.
The lunar landscape that is Sarakiniko beach is truly a sight to behold. Volcanic sediment has formed a compact white rock resembling limestone that extends in dune like shapes to create a singularly unique formation. This beach is a honeymoon in itself.
Kleftiko offers the next most impressive sight in the island. Underwater caves that have collapsed have formed a labyrinth of navigable routes in and around them that look like Halong Bay. These were used by pirates back in the day to hide from the authorities and evidence of their activity is still visible. Good swimming opportunities to be had here.
You may not find many places to frequent during the evening, but then you're on your honeymoon. Which works out just fine in this quiet.
Source: athens-express.gr