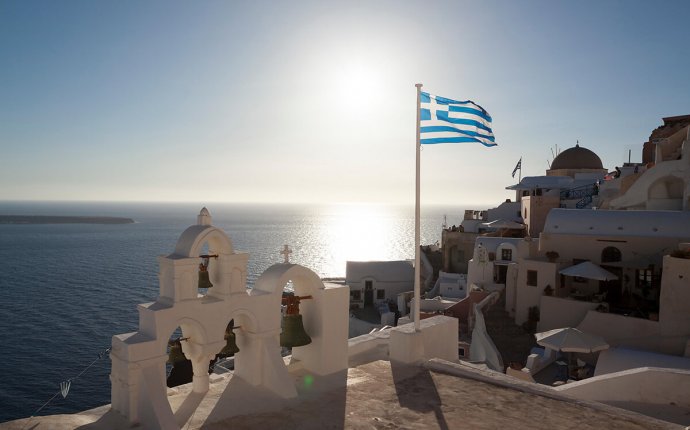 Athens Greece flag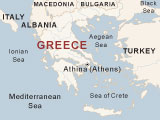 Fast Facts
Population: 11, 100, 000 Capital: Athens; 3, 238, 000
Area:
131, 957 square kilometers (50, 949 square miles)
Language:
Greek Religion: Greek Orthodox
Currency:
Euro Life Expectancy: 78 GDP per Capita: U.S. $19, 100 Literacy Percent: 98
Map
Greece, on the Balkan Peninsula in southeastern Europe, is mostly dry and mountainous, with a large mainland and more than 1, 400 islands. The nation where democracy was conceived in the fifth century B.C. has periodically suffered the loss of freedom and welcomed its rebirth. After almost 400 years under Turkish rule, Greece won independence in 1830. Scarred by Nazi occupation during World War II and an ensuing civil war, the nation endured seven years of military dictatorship from 1967 to 1974. The junta fell after a failed Athens-backed coup in Cyprus—which brought the Turkish invasion and occupation of northern Cyprus in 1974. An elected government and new constitution followed. Even though Greece and Turkey are both members of NATO, relations have been tense over Cyprus and Aegean issues. A breakthrough occurred in 1999 when major earthquakes hit Greece and Turkey—both countries and peoples responded generously to the other's need.
Membership in the European Union has helped stimulate industry, agriculture, and shipping. Greece's maritime fleet is the largest in Europe. Recent economic growth, lower inflation, and lower unemployment have helped Greece somewhat overcome its position as one of the poorest of the EU countries in terms of per capita income.
The unique ecosystems of the Prespa Lakes region and the dense woodlands of the Rhodope Mountains have been set aside as international preserves. Athens stepped into the global spotlight as host of the 2004 Summer Olympic Games. Greece's ancient treasures, striking landscapes, and pleasing climate are irresistible, enticing some 12 million visitors a year.
ECONOMY
Industry: Tourism, food and tobacco processing, textiles, chemicals
Agriculture: Wheat, corn, barley, sugar beets; beef
Exports: Food and beverages, manufactured goods, petroleum products, chemicals
Source: travel.nationalgeographic.com