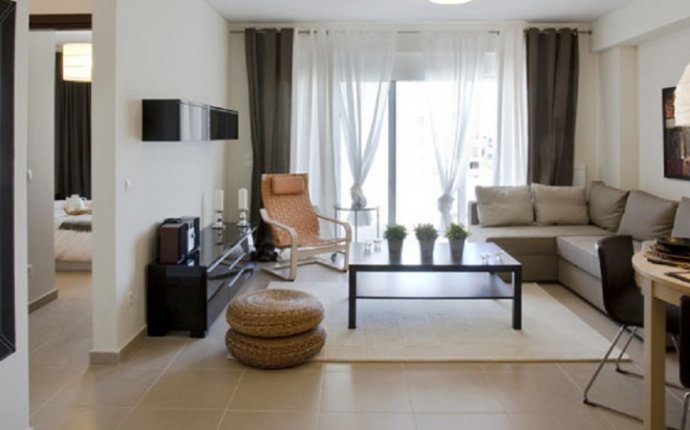 Apartments in Athens, Greece
A unique place in downtown! Just one minute from Apostolou Pavlou. 10 minutes away from Acropolis. Ideal for 2 persons, accomodates up to 4 people.
Thissio Art House. Come and stay in the stylish and comfortable apartment in Athens. In the city's heart! Situated 3 mins from Thisio metro station and within walking distance from Acropolis. The house is situated in one of the most known pedestrian streets of Athens Apostolou Pavlou that leads to Acropolis.
Excellent location, up and coming neighborhood with great cafes, restaurants and concept bars, close to public transport, yet still quiet and calm. The flat is cozy, oozing with charm, and very comfortable, and you really feel like you are at home here. We stayed during an unseasonably cold week, but the automatic central heating and additional split unit in the living area kept us plenty warm. Bathroom has quite a low ceiling (especially the shower), so keep that in mind if you are taller than average. A wonderful flat overall that really made our visit to Athens memorable.
Everything was brilliant. The flat is perfectly located, very clean and lots of beautiful light. Thank you!
This flat was perfect. Located next to the Acropolis in a quiet street, 5 min away from great restaurants and cafes, there could not be a better place to stay. The flat is very well decorated and full of light with a super comfy sofa that you can also use as a bed. Perfect flat for 1-2 persons, I would definitely like to book it again on my next trip to Athens.
Jean's flat was just perfect for our city trip to Athens. Hi sister welcomed us and showed us every detail. The flat is a very cool area with lOts of little tavernas, bars and restaurant but very quiet. Jean and his sister recommended a couple of local restaurants. The flat was quiet and clean.
Amazing staying. I recommend it to everyone! Thanks Jean for this great opportunity to enjoy Athens starting from your place.
The place is exactly as described. Very comfortable for 2-4 people. We didn't cook but everything needed is available if somebody wishes to. The interior is decorated with an artistic touch making it unique. The flat was very clean and had internet connection. The location couldn't be better, just 5 minutes walk from central transportation means an 1 minute to the famous artist's street in Thisio where artists exhibit. Cafeterias, restaurants etc. are nearby. Excellent value for money. Highly recommended !
Alex met me at the Thissio Art House and explained basic things about the apartment and how things worked etc - which was really helpful. All my communication with Jean and Alex was really good and quick so finding my way to the apartment and settling in felt easy and friendly. The apartment is located on the back of the main building on the 3rd floor on a quiet street only moments away from Thissio metro station and lots of restaurants, bars, a pedestrian walkway to the Acropolis etc. The apartment itself is a small, clean and an easy place to be. There is a tiny balcony running across the main rooms of the apartment. There is no view and nowhere to sit out - but I managed to lay on the balcony (just wide enough) and enjoyed resting there in the late afternoons. Underneath the apartment is a lovely bakery which sells fresh breads and pastries plus good ice cream and cakes. A small supermarket 5mins walkway meant that everything I needed was only moments away (left out of the apartment block, first left, 3rd street on right). This is really the perfect apartment if you want to be central for Athens and enjoy eating out mostly. The kitchen has a big fridge and freezer but the other facilites are basic and so cooking is ok - but eating out is better! There was coffee, oil, herbs, salt & pepper, toast breads, butter etc which was a nice touch so that I didn't have to buy absolutely everything. A few things went wrong whilst I was there and Jean and Alex were really quick to communicate and try and sort things out - which I really appreciated. All in all I really loved staying at the apartment. A good place for 1 or 2 people to use as a comfortable and clean base whilst experiencing Athens. Thanks Alex and Jean! Things to know: there is a CD player, hairdryer, coffee filter machine, washing machine, iron & ironing board and clothes airer. There is also a tiny lift up to the 3rd floor if you need it.
Thissio Art House is perfectly located, walking distance or a short metro ride to all the amazing sites, restaurants, bars and shopping areas in Athens. Jean was very helpful and prompt in his communication and Alex was at the apartment to meet us and get us settled in. The apartment itself is very clean and comfortable, great for a solo traveller, couple or small family.
Source: www.airbnb.com