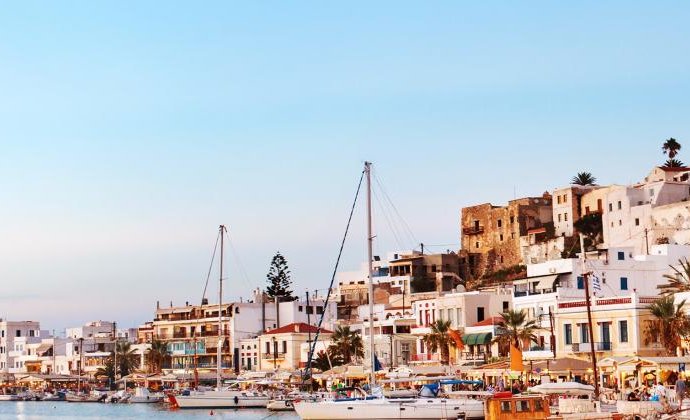 Prettiest islands in Greece
advertisement
Hydra (Saronic Gulf Islands): Old-timers keep waiting for Hydra, with its handsome stone mansions overlooking a picture-postcard harbor, to be spoiled. After all, even before Mykonos and Santorini, Hydra was one of the first Greek islands to be "discovered." So far, so good: Donkeys still outnumber motorcycles, and the day-trippers who blitz through the appealing harborside shops leave at twilight. That means that except in August you can almost always find the table you want at one of Hydra's pleasant small restaurants.
Crete: Whether for its rugged mountains or its countless beaches, its ancient remains or its ultramodern hotels, its layered history or its intense people, Crete cannot be denied. It is not just a distinctive Greek island - it is a world unto itself.
Santorini (Cyclades): This is undoubtedly one of the most spectacular islands in the world. The streets of Fira and Ia are carved into the face of a high cliff, overlooking the circular caldera left by an ancient volcanic eruption and now filled with the deep-blue waters of the Aegean. The site of Akrotiri offers a unique glimpse into life in a Minoan city, frozen in time by the eruption 3, 600 years ago. Add to this the Fira nightlife scene, and you'll see why this is one of the most popular (and overcrowded) summer vacation spots in the Aegean.
Siros (Cyclades): This tiny island has it all: a vivacious, cosmopolitan capital town; thriving beach resorts; and a starkly beautiful region of farming communities, archaeological remains, and remote beaches to the north. Siros is also one of the centers of rembetika, a form of Greek traditional music with roots in Asia Minor.
Tinos (Cyclades): The island often called the "Lourdes of Greece, " because of the church, Panagia Evangelistria (Our Lady of Good Tidings) with its healing icon, also has Venetian dovecotes; farm fields set off with handsome stone boundary walls; fine sand beaches; and Pirgos, the village of marble with a superb Museum of Marble Crafts.
Rhodes (Dodecanese): The island of Rhodes has everything a visitor could want - dazzling ancient and medieval ruins, great food, spectacular beaches, and some of the hottest nightlife outside of Athens - the one drawback being that everyone knows it.
Skyros (Sporades): Winding roads and remote beaches, one main town and a few villages, some ancient legends and 20th-century tales: Skyros's charms remain perhaps the most elusive of the four northern Sporades. But though the island remains a bit difficult to access and not overstocked with touristy amenities, Skyros also offers both a living local culture and some natural wildness.
Corfu (Ionian Islands): With lush vegetation, some still-undeveloped interior and unspoiled coast, ancient sites and a 19th-century presence, a dash of Italy and a dose of the cosmopolitan, Corfu is a Greek island like no other. Tourism may be rampant, but Corfu's attractions have survived worse.
Hios (Northeastern Aegean): You'd think that an island with such gorgeous beaches, exquisite medieval towns, and remarkable scenery wouldn't remain a secret for long. Despite the qualities that attract a small group of devotees year after year, Hios remains surprisingly quiet. If you like the idea of getting away from the tour buses, being alone on a beach to rival any in the Cyclades, and exploring towns that preserve the contours of medieval life, Hios is for you.
Sifnos (Cyclades): Sifnos is a green island of ravines, mountaintops, and pristine beaches. Sifnos is small enough that a hardy walker can explore the entire island on foot, following well-maintained foot and donkey paths from church to church and village to village. Each village has its own very distinct character. In the capital, Apollonia, houses are cheek-by-jowl, with tiny gardens. Artemona has startling neoclassical mansions and Ex Ambela has low houses with unusually large gardens. The village of Kastro (castle), on its seaside rock, is the medieval locus of the island, whereas Platis Yialos is a bustling beach resort. Don't visit in August, when the island is mobbed with vacationing Athenians.
Note: This information was accurate when it was published, but can change without notice. Please be sure to confirm all rates and details directly with the companies in question before planning your trip.
Source: www.frommers.com