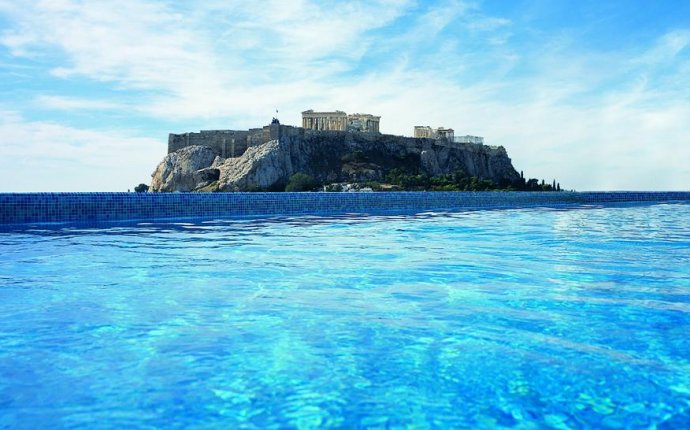 King George Athens Greece
9 / 10
It can't get more cosmopolitan than this. Centrally located, King George is easy to get to on all modes of transportation including train, metro, bus, taxi and shuttle bus. It is also within walking distance of all major landmarks such as the Acropolis, Monastiraki flea market, the National Gardens, Athens' high-street shopping district and five minutes away from the bustling nightlife of Agia Irinis's Square and Plaka.
Style & character
Upon entering the King George you immediately feel the regal air of the former palace. Airy high-ceilinged rooms and hallways have opulent touches of Rococo style, with minimal furnishings, pleasing fabrics and soft beige tones. Discreet Ionic order pillars pay tribute to the grandeur of Ancient Greece under the brilliance of Murano chandeliers. Select objets d'art adorn the reception area, lobby and restaurant.
Despite the classic feel, there is a certain modern-day freshness: an eye-catching David Bowie-as-Ziggy portrait, made from thousands of test tubes, by British artist Joe Black watches over visitors as they proceed to their suites.
Service & facilities
8 / 10
Warm, welcoming and knowledgeable. Besides the fully equipped fitness centre, sauna and business centre, guests at King George can also use the facilities of sister hotel Grande Bretagne right next door which includes pools, a spa, a specialised cigar bar and several cocktail bars.
Bar
Fitness centre
Laundry
Restaurant
Room service
Sauna
Spa
Wi-Fi
Rooms
Spacious rooms have a small balcony overlooking Syntagma Square, the Parliament building and the Parthenon. They all offer a large luscious bed complete with signature Starwood Luxury Collection bedding plus a lavish divan-style couch. A small number of rooms have a view of the upmarket Voukourestiou pedestrian walkway on the other side of the hotel.
The large marble-clad bathroom has a tub, separate shower and generous olive oil-based toiletries by Greek company Olivia. High-speed Wi-Fi as well as digital climate control and lighting panels provide added comfort.
The hotel's pride and joy, its penthouse suite, features its very own infinity pool with a supreme view of the Acropolis.
We offer a price guarantee on every hotel booking
Your passport to a better trip
Food & drink
Most of the action at the King George takes place at its award-winning Tudor Hall Restaurant on the seventh floor, with spectacular views. Chef Alexandros Koskinas serves innovative Greek cuisine using the finest ingredients from across the islands and mainland.
The menu includes the likes of homemade, wood oven-baked onion pie made with Mykonos Tirovolia cheese, and the handmade ravioli comes with Syros island San Michali cheese, spinach and roasted cherry tomatoes. The traditional Corfu 'sofrito' consists of veal cheeks with parsley pesto and roasted potato purée infused with garlic. The wine list is award-winning.
The breakfast buffet is diverse and includes Greek classics such as the traditional 'lychnariakia' (sweet cheese pies made with Cretan myzithra cheese), graviera cheese with honey, as well as feta and spinach mini-pies, alongside seasonal fruits and freshly baked breads.
Value for money
Double rooms from €252 (£217) during low season; and from €298 (£256) in high season. Deluxe rooms at €298 (£256) in low season; and from €344 (£296) in high season. Buffet breakfast included. Free Wi-Fi.
Source: www.telegraph.co.uk