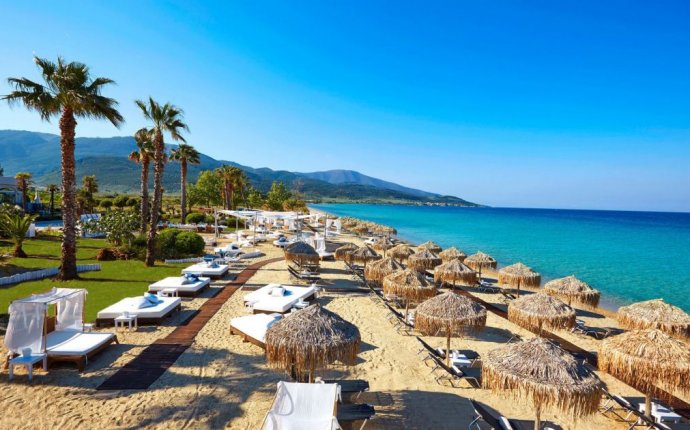 Hotels Thassos Greece
Thassos Grand Resort is a brand new 5-star hotel on Thassos. With its ample space it is the purest emanation of luxury that will make you feel comfortably at home from the very first moment you step over. Each of the 161 magnificently styled rooms, 8 suites and 2 villas of this luxury resort offer unrivalled Mediterranean lifestyle. This 5-star hotel on Thassos intricately weaves modern comfort with exquisite designs in fresh white, cool blue and calming beige combining state-of-the-art facilities, spa procedures and natural beauty to offer unforgettable luxury holiday in Greece.
Thassos Grand Resort is the contemporary reincarnation of full relax and Mediterranean holiday in Greece – plenty of sun and typical Greek cuisine, known for its unparalleled taste. This luxury hotel in Greece offers a number of entertainment activities for all of its guests. You will be able to have fun during the day, especially all sports lovers, as well as at night at the Alpha bar of the hotel.If you opt for a family holiday, be sure that your children will feel amazingly in our kids club and will be in fullswing active play. If you seek to find a suitable place to take your beloved ones to, the specific landscape around Thassos Grand Resort exhibits charming romantic view towards Agios Ioannis Lukas bay and Mount Athos.
Thassos Grand Resort is a cosy hideaway and escape from reality. The unmatched beauty of this island in Greece, combined with warm hospitality and premium service will make happy every guest to this 5-star SPA hotel on Thassos island. In addition, Thassos Grand Resort is a beachfront hotel where you can enjoy sunbathing and stunning views.
THASSOS – THE EMERALD ISLAND IN THE AEGEAN SEA
Located in Greece, Thassos island is the northernmost island of the historical Aegean sea, very close to the Macedonian coast, and is famous for its crystal clear emerald sea, sandy beaches and lush greenery. It is the Ideal destination for relaxing holidays, for families, and anyone seeking the breathtaking views of Aegean Sea, walks in nature and plenty of sunshine.
THASSOS – THE PLACE WITH HIDDEN TREASURES THAT WAIT TO BE EXPLORED
With its rich history and archaeological remains, wonderful beaches, variety of activities to do and friendly people, Thassos has become one of those islands holidaymakers return to year after year. It is very popular not only with the Greeks because of its incredibly delicious food, the high-standard services provided and the very intriguing mixture of the modern and the traditional.
Today, the island is a recognised favoured destination with the relevant infrastructure, providing guests with all the necessary modern comforts for a memorable stay and unforgettable holiday in Greece.
If you search for 5-star luxury hotel with own beach on Thassos, this is your dream place for Thassos Grand Resort is an amazing place for amazing people.
Source: www.thassosgrandresort.com