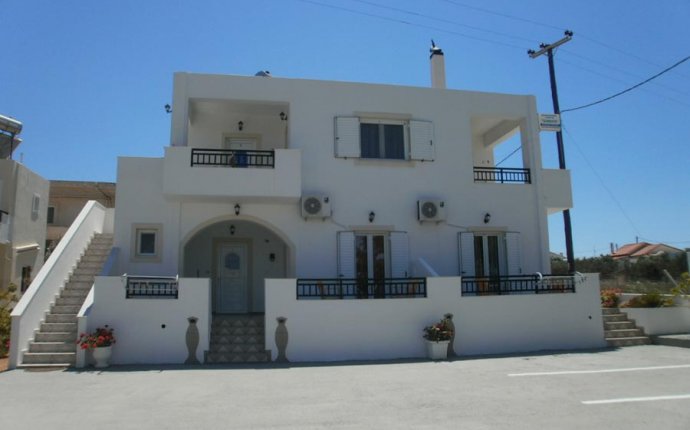 Elafonisos Hotels Greece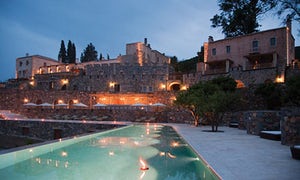 The Kinsterna Hotel & Spa, at Monemvasia, Greece.
A boutique hotel and spa in a 13th-century manor is just the starting point for discovering a little-visited corner of Greece's beautiful Peloponnese
Elafonisos has the best beach in Greece. So said more than one local during our stay nearby. It's quite a claim given the reputation of the country's islands, and you might imagine it would be hard for the beach to live up to expectations. But catching sight of it for the first time I found myself saying, "Wow!" Here was the fine sand and clear aquamarine water you rarely see outside of adverts for the Caribbean. The banner flapping gently over the entrance to Simos beach said it all: "Welcome to Paradise."
The island of Elafonisos isn't a well-known holiday destination, and there's good reason for that. Rather than being one of the Cyclades or Dodecanese – islands that hundreds of thousands of tourists visit every year – it is just off the mainland of the less visited Peloponnese, a four-hour drive from Athens. In July and August the area is apparently bustling with Greek holidaymakers. But when we visited last June is was all clear blue skies, calm seas and near-empty beaches.
It was the prospect of a stay at the Kinsterna Hotel & Spa, on one of the four fingers that make up the Peloponnese peninsula, that had brought us here. It opened in 2010 just before Greece's economic woes reached crisis point, and any other hotel might have suffered. But the Kinsterna has thrived.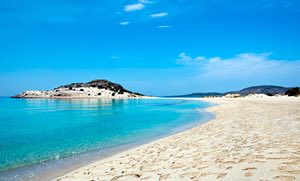 This isn't only because it is a stunning 13th-century manor house renovated to fit in perfectly with the landscape (the architect had to rip up his first plan for the swimming pool because it involved digging up some orange trees rather than working around them) but also because it made the 2011 Condé Nast Traveller hot list of the world's best new hotels.
Simos beach on Elafonissos island, one of the best in Greece. Photograph: Alamy
Its location is not to be sniffed at either: 7km north of the Kinsterna is the medieval citadel of Monemvasia, which, like the Kinsterna itself, still exhibits signs of its Byzantine, Ottoman and Venetian heritage. Monemvasia's called the Gibraltar of the East, which doesn't do it the least bit of justice: as far as I can tell, they have little in common apart from both being built on a rock.
No cars are allowed beyond the first arched entrance so, with its narrow, car-free streets it felt to me more like Venice, if a much smaller, less well-trodden version. At its height in the 17th century, 40, 000 people lived on Monemvasia; now only 10 people live in the citadel full time. Most of the old buildings are now hotels and holiday homes, and you can see why. There are uninterrupted rooftop views, great local restaurants (Matoula is popular with visiting Athenians as well as tourists) and you're only ever a minute or so away from a refreshing dip via the island's "sea gate". Thirty minutes away by car (or, if you're feeling flash, a short speedboat trip) is the little village of Gerakas, celebrated for its seafood.
We stepped off the boat to see an octopus pinned taut between nets, drying in the sun, presumably soon to be consumed at one of three fish taverns. Diamantis, where we ate, was recommended by the Kinsterna manager, who was turned away on his last visit because the fish was a day old so not, clearly, fresh enough. People here take their seafood seriously. We dined like kings on battered shrimp patties, roasted herby feta on pitta, calamari and red mullet.
As well as a attracting foodies, Gerakas is popular with birdwatchers, because migrating birds use it as a stop-off on their way to Africa. Sunning myself at the water's edge I could hardly think of a better place for a mid-journey break.
Bedroom at the Kinsterna Hotel
Given how much the area has to offer it seems philistine to suggest that the hotel was the highlight of our holiday, but the infinity pool and its views over olive and citrus groves did exert a magnetic pull, as did our room, whose cool stone walls offered a haven from the midday heat. Wonderful, too, were the spa and restaurant: dinner was served at tables on a cantilevered platform above the ancient pool, or cistern, from which the hotel takes its Byzantine name. The menu is tailored to match the wines grown and produced by the hotel's owners. It was a treat to dine looking out at the vineyards that produced the crisp wine we were drinking.
Source: www.theguardian.com