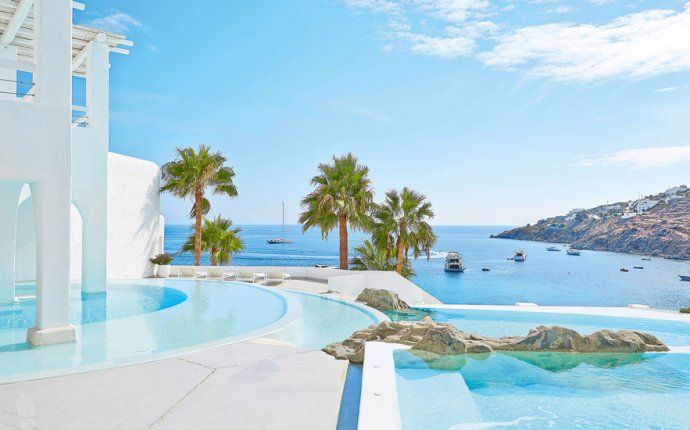 Best beaches Hotels in Greece
Unlimited choice of top beachfront hotels in Greece
It's that time of the year when you can't think of anything else than jumping right into your swimsuit and straight into the cool, blue sea. If you are in desperate need of a beach, sun and sea holiday, than Greece is just the right pick for you. With over 2.500 beachfront hotels all over the country, and especially on the countless picturesque islands, there's unlimited choice to find your perfect holiday paradise.
There are about 400 beaches in Greece on a total of 13.000 km coastline that have been awarded the Blue Flag, signifying their superior water quality, cleanness, organization, safety and environmental standards. In this category, Greece ranks among the top 3 beach countries worldwide. If you've experienced the magic of Greece's waters and beaches once, you'll know it's not a myth.
Travelmyth is here to make your choice a bit easier and lets you combine your search for the ideal beachfront hotel with over 50 other categories. So, whether you are up to travel with your family or looking for an adult-only honeymoon escape, you want to get pampered with an all-inclusive luxury package or need nothing more than a simple room by the beach, - the choice is yours.
Beachfront hotels let you experience the luxury of direct view and access to a private or public beach. Often, these hotels offer additional included services and amenities such as umbrellas, sun beds, beach bars and water sports activities, making it a perfect pick to spend your whole day by the water. Check the descriptions in your search results for more information.
Most beachfront hotels in Greece can be found on the islands of the Southern Aegean, such as the Cycladic islands of Naxos, Ios and Sifnos. These islands provide not only dreamy beaches but will magnify you with its authentic Greek island charm, culture and typical blue-white architecture.
The second region with the most beachfront hotels in Greece is Crete, followed by the Ionian Islands in the country's west and the Dodecanese islands in the south-east. Every single island such as Corfu, Rhodes or Kefallonia feature a unique cultural identity, cuisine, traditions, landscapes and beaches with very own characters that are worth to discover (one main reason that you'll keep coming back to Greece!).
But also the Greek mainland including the Peloponnese and Central Macedonia offer plenty of amazing beaches with hotels and resorts located right at the best spots. The three-finger peninsula of Chalkidiki for example is famous for its waterfronts, ranging from sandy to pebble beaches with panoramic views and lush vegetation in the back.
Source: www.travelmyth.co.uk