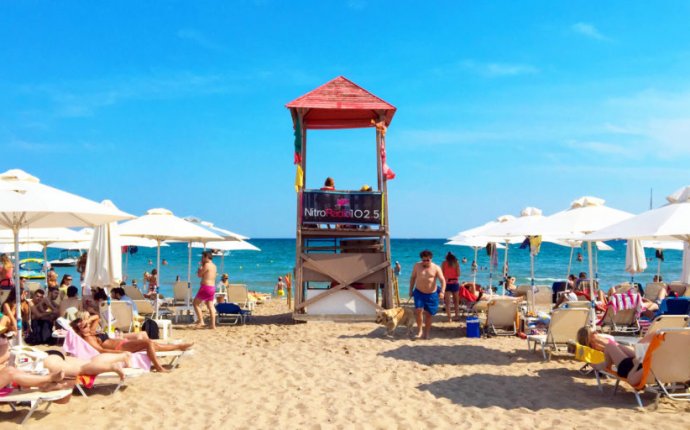 Athens beaches Greece
You don't have to get on a ferry boat to the Greek islands to enjoy swimming in the Aegean Sea. Athens has a string of beaches which begins in Pireaus, known as The Apollo Coast and like any city the further you get out of town the better the beaches are.
While there are people who do swim in Pireaus and Faliron, I don't, (though it probably won't kill you, at least not right away). This does not mean that I wouldn't if it was a really hot day and I did not have the energy to get further out. I have been swimming in worse places than the city beaches of Athens and I have lived to tell about it though I was too young to know any better. But in general if you want to play it safe and enjoy the best beaches Athens has to offer you should begin with the Kavouri-Vouliagmeni area and find the beach most suited to you between there and Sounion. But honestly the seas close to Athens have become a lot cleaner and if you happen to be staying in Faliron or even in Pireaus there is no reason not to go for a swim. Just don't swim in the harbor. Not just because it is dirty but you don't want to get run over by a ferry. The best thing about staying in Pireaus, Faliron, Kalamaki, Glyfada and Voula is that you have a number of easy options for getting into Athens which is between 15 minutes and half an hour by bus, tram, metro or taxi or a combination.
If you want to stay in a hotel convenient to Athens but still on the beach then probably a resort hotel like the Divani Apollo Palace or the Astir Palace Hotel are good choices and just an hour from the city. They are expensive but it is almost like being on an island except you are so close to Athens that you can see it. There are other hotels in the area of varying prices and quality, most of them across the street from the beaches in suburban neighborhoods which is a good thing because you have easy access to shops and restaurants. For those who want to go all out, another 15 minutes by car is the Grand Resort Lagonissi with the Sunset Suites costing about 2774 euros a night, though a normal Deluxe room with a view of the bay a mere 312 euros a night. But if you stay here you have already saved the cost of the ferry to an island. See Athens Coast Hotels for many more choices.
Athens has several very nice pay beaches on its southwest coast, starting at Glyfada and ending in Varkiza. These beaches have cabanas, snack bars, showers, cafes, restaurants and everything you need to not be bored at the beach. Between the very popular pay beach of Vouliagmeni and the next town which is Varkiza, are The Coves where you park your car at the top and walk down to some small pebble beaches and flat rocks, which are like finding somewhere remote on an island, except for the hundreds of young people who come on weekends and in the summer because it is free, pretty clean, great for snorkling and because some people just don't like sand. But if you come on a nice weekday in the off-season, which is anytime that is not July or August you should have a cove to yourself if you like, or at least a flat rock or two.
Depending on the wind and other variables some beaches are popular with wind-surfers, mostly between Saronida and Anavissos. Anavissos has a long open beach and lots of fish tavernas and is a favorite place for Athenians during the weekends and especially on Sunday. There are a few small scattered beaches between Anavissos and Sounion. In Sounion there is a small beach below the temple with two tavernas and the Aegeon Beach Hotel, another alternative to going to the islands. What more could you want? A beach, ancient temple and 2 tavernas. Between Sounion and Lavrion are a number of tiny coves and beaches but the problem is finding them. If you have a car you will see signs but if you have come on the KTEL bus forget it. Stick with Sounion or any beach you pass on the way there that looks nice to you.
The adventurous can continue on to Daskalio which has a few nice little fish tavernas close to two sandy beach coves though you will need a car to go here. I usually go straight from the airport when I arrive in Greece, rather then straight into Athens, to get my Aegean Sea fix and a nice meal. George the Famous Taxi Driver picks me up at the airport and I ask him to bring a towel for me (no charge). The best restaurant is Litsa's which is in the small port near the beach, and also Kosta's a few steps away. There are some tavernas closer to the beach as well but i have not eaten at them. Daskalio is more easily reached from Athens if you take the Attiki Odos (National Road of Attika) and go past Markopoulo and look for the signs when you get to Keratea that will lead off to the left. There is also a beach at Kakis Thalassa, a little further on.
The beaches at Avlaki, Porto Rafti, Loutsa and Rafina, all pretty well built up now and surrounded by apartment buildings and summer houses, all the way to the beaches of Nea Makri. But the long beach at Schinias is one of the nicest in Greece and looks more like something you would see in Halkidiki than what you would expect to find this close to Athens. It is a long sandy beach that faces south and there is a large pine forest that goes to just a few feet of the sea so there is plenty of shade to park your car, have a picnic, or pitch a tent (you can't stay overnight). There...
haircut male
thrust fault
email trend
last haircut
astronomy dvd
store lifestyle
out and about coffee
five bean coffee
music lifestyle
great fashion
what is m in science
coffee market
only fashion
will i am science
coffee grinder dance
great trends
alchemist coffee drink
coffee big
dc astronomy
trending memes 2018
hair salon near me open monday
coffee is life
anoxia definition
science up
haircut plus
haircut up
coffee shops gresham oregon
good science
16 trends
june 2018 constellation picture
name for types of hairstyle
trending music awards
20 s fashion
haircut color
short hairstyles
haircut on tv
know your meme database
bc astronomy
coffee cup clipart
science daily
star an
what is the study of space called
article lifestyle
lifestyles of the rich and famous robin leach
wild weird coffee poster design
astronomy name
starsky and hutch
experiment on scientific process
family lifestyle
astronomy tab
fashion style words
fashion to me
have haircut
0's fashion
him fashion
girly cute dresses
all life science
trending videos facebook
astronomy india
3 haircut
and lifestyle
food lifestyle
city science
what is my lifestyle
farthest star discovered
haircut cut
the heavenly night sky will reveal the path
science buddies science fair projects
outfit with off the shoulder shirt
canada astronomy
my astronomy
hypothesis order
down fashion
molly holly dresses
have coffee with me
lifestyle project
navy blue floral print dress
game of science
badass outfits green
all scientists approach their work with certain which are ideas
so fashion
grand stylist laramie wyoming
coffee cake recipes
davis street coffee house
lulus discount code
high resolution coffee grounds
company lifestyle
five trends
single lifestyle
astronomy now
trending dress shoes
hair salon near me for men
trending today show
s m lifestyle
beauty hair craft salon
coffee enema supplies
coffee bean and tea leaf hawaii
coffee because
trends event
coffee at 5
vedic astrologers near me
big y coffee
lifestyle blog
no coffee
point coffee
what is science for me
fashion movie
coffee cake recipes with sour cream
science olympiad fossils
constellation sun
women's haircut near me
coffee year
trend image
scientific method example questions
coffee bean and tea leaf gift card balance
deja brew panama city beach
starbucks hyde park hours
coffee mugs that keep coffee hot
this season clothing
12 coffee
planets symbols and meanings
lifestyle vs life style
scientific method steps examples
job in astronomy
so good coffee
science center of iowa
trademark full services salon
lifestyles of the rich and famous quotes
lifestyle show
w spa coral springs
trending videos today
you as fashion
science fair posters high school
other habits
lifestyle photo shooting
lifestyles unlimited radio
shirley clothes
haircut face
in haircut
drive through coffee in oregon city
better lifestyle
50 trends
astronomy year
child haircut
army haircut
science experiments
minimal hair
cumming ga coffee shop
science olympiad test exchange 2017
coffee at work
week science
astronomy today
trending now on netflix
navy off the shoulder bodycon dress
coffee cake recipe
hair salon near me open now
designs star
coffee shops in johnson city
fashion 20
art and astronomy
13 coffee
fashion then and now
today fashion
lifestyle site
coffee shops near me now
coffee enema benefits
coffee city
science center hartford ct
job fashion
astrology equal house chart
lifestyle lyrics rich homie quan
kansas coffee company
Source: www.athensguide.com