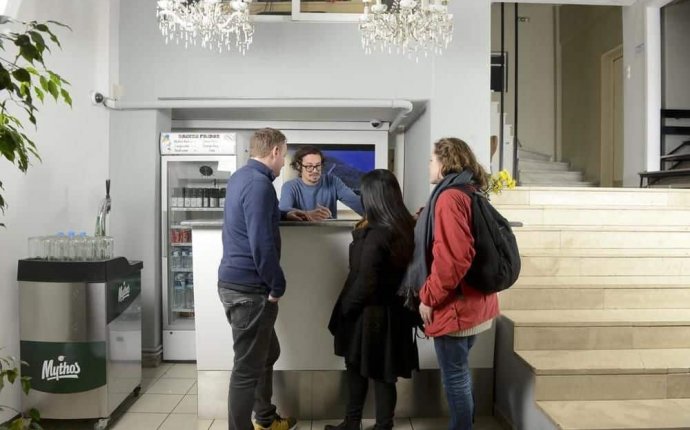 Athens Backpackers Athens Greece
'AB's has fast become the hostel of choice for excellent facilities and good-time atmosphere - you'll find an instant social scene, fabulous facilities, roof bar with lots of action, clean comfortable beds - everything included- in a unbeatable location.' - Lonely Planet 2017
'A never-to-be-forgotten experience, people adore this non-smoking, English speaking joint - great opportunity to meet free-style travellers like you' - In Your Pocket 2017
Our Australian-owned and -run hostel is right in the heart of classical Athens on the good side of town. It's safe, central and door-to-door from the airport by metro. You'll have an amazing time here; there's always something on, from quiz nights, karaoke nights, special events, soup nights, daily walking tours and Happy Hours. Our sports bar has all the major sport live - if it's on anywhere then we're showing it.
We have a choice of big airy dorms and beautiful new private apartments. This is a clean, professionally-managed hostel with beds that are always clean and showers that are always hot. There's ensuites and private bathrooms to all rooms.
We've got free high-speed Wi-Fi throughout so bring your laptops and hand-held devices or use our new PCs for a small charge.
We've got no hidden charges, with free breakfast, free tea and coffee all day and a free cinema! There's also no charge for using credit cards.
From computers to the Laundromat to the communal kitchen, we've got all the services you need. Save money and use our kitchens to cook lunch and dinner - your stay in Athens will halve in price.
During hot summer nights, on the rooftop bar you'll get the coldest, cheapest beer in Athens and the best view of the Acropolis as the sun sets.
Remember, Happy Hour is every night from 7 to 8pm and features discounted cocktails, with mojitos, Parthenon passions, €2 icy pints and free shots.
Our staff will make sure you get the best out of your stay in Athens. Cities can be hard to discover. We make sure you get what you want out of your stay by organising parties to meet people, orientation walking tours and just personal help. We've got great tours in and around Athens at great backpackers' prices.
This is the best location in town, right beside the classical centre in a quality area, with no dodgy backstreets. There's a reason we have a 97% rating for location!
We're less than five minutes from the Acropolis, the Plaka, the National Gardens, Hadrian's Arch and the Temple of Zeus. It's only 15 minutes' walk to Lycabettus Hill, 10 minutes by subway to the National Archaeological Museum and 20 minutes by tram to the beach and Pireaus Port.
Source: www.hostelworld.com