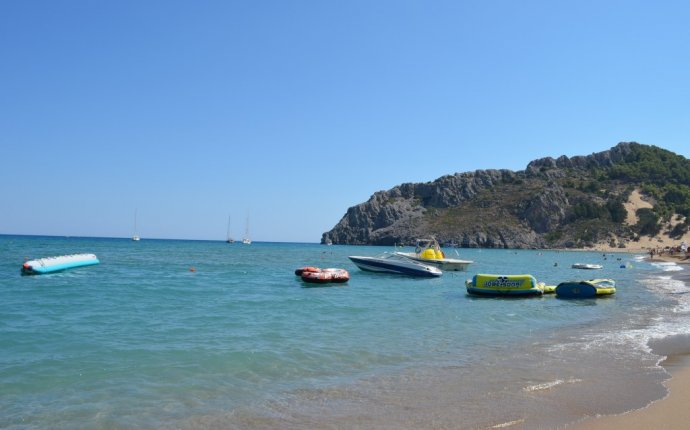 Things to do Rhodes Greece
GETTY
St Paul's Bay, Lindos
Having lots of facilities on site was wonderful, but Rhodes does have some beautiful sights to explore if you can tear yourself away.
The ancient town of Lindos, 40 minutes from the hotel, was our first port of call, and you can catch regular air-conditioned coaches from the stop just outside the hotel, for just three euros per person.
We thought the heat couldn't get much more stifling, but we were wrong. Lindos is the hottest place on the island and the temperature soared as we walked up cobbled streets to the Acropolis. The archaeological park contains the Hellenistic stadium, built in the 3rd Century BC, where ancient athletic events took place. These included a major festival of the ancient Rhodians, held in honour of the sun god, Helios.
Next to the stadium is the small restored Roman Odeon, and along Isiodou Street are the remains of the temple of Athena Polias and Zeus Polieus. From here, there is a panoramic view of the city and the sea, and the sunset is breathtaking.
Rhodes is perfect for a family holiday
We decided on a different mode of transport for our return journey and booked onto the Kolymbia Express boat cruise. It wasn't the smartest boat in the harbour, but it was definitely the most fun. Captained by elderly skipper Antonis and his son, whose children and their pet Jack Russell joined us for the journey, we were among just a dozen passengers.
The journey took a leisurely two hours and we anchored off shore at three beautiful beaches – Tsambika, Agathi and my personal favourite, Red Sand Beach, a completely deserted cove. At each stop we dived off the side of the boat into the calm water for a cooling dip. We sat on the sand and enjoyed chunks of watermelon as the sea lapped at our ankles.
The day before we left, we headed off for our final adventure – to the neighbouring Greek island of Symi, which some friends of ours had recommended. It meant a 7am start and a two-hour ferry ride but, as we pulled into the picture-postcard harbour, with its pastel painted houses,
I knew it had been worth the effort. Before the heat of the day, we explored the side streets and boutiques, then stopped for lunch at a tucked away restaurant beneath olive trees which we noticed was packed full of locals rather than tourists. Symi is renowned for its seafood and I feasted on red snapper, along with a tasty accompanying mezze board.
In peak season, the Greek islands are a mecca for tourists, but here, as in Rhodes, I discovered that there are still plenty of off-the-beaten-track gems where you can experience an authentic slice of island life.
Way to go
First Choice offers seven-night holidays to Rhodes staying atits Holiday Village Rhodes on an all-inclusive basis from £474 per person. The price is based on two adults sharing, and includes flights departing from London Gatwick on April 13 and transfers. See firstchoice.co.uk or call 0871 200 7799.
1. Visit Lindos. Wander among the whitewashed buildings in this beautiful town and take the winding streets to the Acropolis. First Choice runs a guided tour for 49 euros per adult.
2. Head to Rhodes Town. Take a coach or a guided tour and explore the medieval old town walls, built by the Knights of St John in the 14th Century as a fortress.
3. Recline on Tsambika Beach, a long stretch of sand lapped by calm waters, 25km south of Rhodes Town.
4. Enjoy a beach cruise. First Choice organises several, or choose from boats at Kolymbia or Lindos harbours.
5. Visit Seven Springs. Also known as Epta Piges, you can paddle through a dark tunnel that leads to a sparkling, refreshing lake, where you can swim.
Enjoy a healthy Greek salad
6. In Faliraki, south of Rhodes Town, you'll find the island's largest water park. New alcohol rules mean this once notorious village is no longer attracting the partying crowd it once did, so you can enjoy some family fun.
7. Try your hand at a variety of water sports. You'll find these on several beaches and costs vary.
8. Take a day trip to Symi, a pretty neighbouring island where tiers of pastel coloured houses dot the hillside. Visit the Byzantine Monastery of Panormitis, then sail to the main harbour and visit the old town.
9. Butterfly Valley is home to thousands of callimorpha butterflies from mid-June to September. Walk under the canopy of the forest, alongside waterfalls and ponds.
10. Rhodes is close to Turkey and you can get there within 90 minutes on the ferry, so make the most of an extra outing.
Source: www.express.co.uk