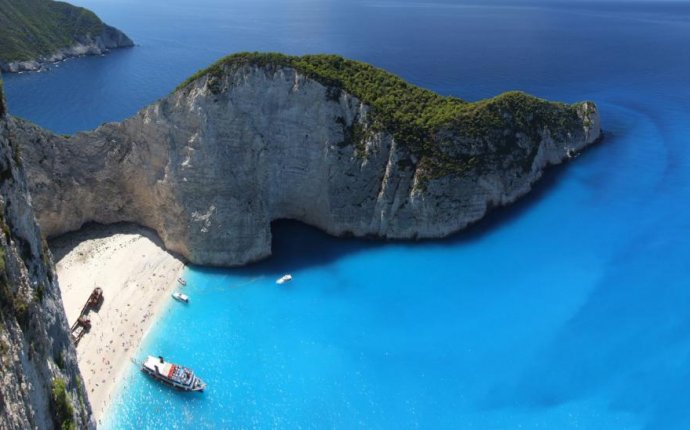 Nicest beaches in Greece
3 - Navagio
(Zakynthos)
Another isolated beach that is only served by boats. Coarse white sand, deep blue waters, dramatic vertical cliffs, and large caverns awaiting snorkeling exploration are enough to make this one of the best beaches of Greece, but the embedded and decaying shipwreck in the middle make this beach a special one.
5 - Elafonissos
(Chania, Crete)
Two of the best beaches of Greece in one prefecture should not be allowed. But such is nature that it bestowed the west coast of Crete with beautiful beaches and sea. Elafonisos is way too crowded for being so far out of the way (our Garmin GPS thought we were in Libya!) in the south-western coast of Chania, but it has been developed with much sensitivity to the environment to make it worthy of a spot in our top ten. Besides, a short walk through the narrow, sandy channel will bring you almost all alone through foot trails and less than saturated beaches in the island of Elafonisos itself.
8 - Finikas
Plaka (Naxos)
This endless patch of sand starts near the town of Naxos and runs down the entire coast of the island, almost all the way to the southern tip (or so it seems). A dirt road follows it down as it turns from crowded patches of organized parasol squares, to more and more isolated patches framed by large sand dunes.
Viewer Votes and Ranking
Our viewers have voted the best beaches in a different order in 2013:
In addition our visitors have voted for these beaches:
Bouka
Nikiti (Chalkidiki)
Kalo Livadi (Mykonos)
Lalaria (Skiathos)
Lambi
Kavourotrypes (Chalkidiki)
Mavrikas
Golden Beach (Thassos)
Tsivili (Zakynthos)
Source: greeklandscapes.com