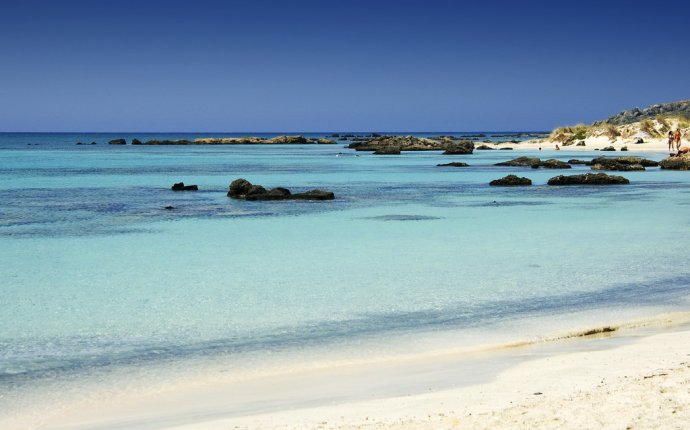 Elafonissi Beach Elafonissi Crete Greece
Elafonisi is located 76km west of Chania and 5km south of Chrysoskalitisa Monastery, in the southwesternmost point of Crete. Elafonisi is an oblong, which often "breaks" in two parts by water giving the impression of being a separate island. Elafonisi is a Natura 2000 protected area. The island is full of dunes with sand lilies and jupiners (like-cedars trees). The endangered turtles careta careta and several rare animals nest on the island and it is strictly forbidden to remove any plants, animals and sand from the area.
Exotic beaches with white sand and turquoise waters, reminding of the Caribbean, are formed on either sides of the peninsula. The sand is pinkish in many places, taking its color from thousands of broken shells. Near the "breaking" point of the peninsula, the water does not exceed 1m, creating a small lagoon, ideal for children. You can easily cross the lagoon in order to reach the "island", having your staff with you, because the water is very shallow there.
The eastern side of the beach, in front of the lagoon, is well organized and has the most people. There are umbrellas, showers, lifeguards, snack bars and changing rooms. Also, near the beach there is a huge area for parking and, even further, a few rooms to let. Opposedly, the beaches on either sides of the island are less crowded and are the most beautiful, with amazing azure colors. If you want to stay completely secluded or nude, you can walk along the peninsula until you find a quiet cove that you like! There are always many coves available for naturists.
You can come by car (1.5 hours) or by bus from Chania. The road to Elafonisi is narrow and full of turns, but the beauty of the landscape is stunning. Moreover there are many options for accommodation and meals available at Chrisoskalitissa village, 5km north.
Sightseeing and history
The island's history goes back in the ancient times, when the ancient Greeks built a temple dedicated to Mousagetis Apollo on the islet of Mousagores (today's Elafonisi). Mousagetis means the lord of the Musses (Greek deities), who with their music calmed down the marine deities and the wavy sea. Opposite the islets, there was the temple of Ino, the daughter of Kadmos.
The island was once occupied by pirates, but now it attracts thousands of visitors. This is reflected in the name of the island. Elafonisi means "Treasure island" in Greek, named after the treasures that pirates stored here. Who knows, maybe you'll be lucky to find a hidden treasure when you come here...
Source: www.cretanbeaches.com