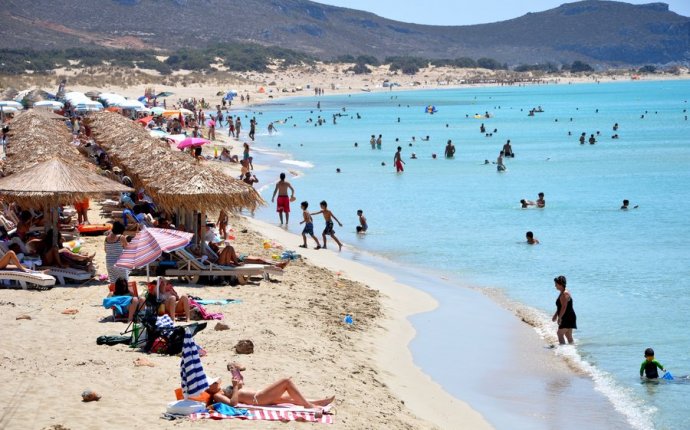 Simos Beach Elafonisos Greece
Where?
The Lakonikos Kolpos or the Bay of Laconia is between the two eastern tips of the Peloponessos, just north of the island of Kythira. To get to Elafonissos you drive to the town of Neapolis, then go back a few kilometers to the village of Vingliafa where there are two small ferries which go back and forth continuously to the island. The island was a peninsula in ancient times and the sandy isthmus which separates it from the Peloponessos is only a few feet underwater which is why the sea has the remarkably alluring color that makes you want to leap off the ferry boat on the 10 minute journey there.
Elafonissos island does not have the spectacular beauty of its island cousins in the Cyclades chain. But it is surrounded by the most beautiful turquoise seas and has some of the finest and longest sandy beaches in Greece. The port town may remind you of a smaller more Spartan version of Aegina, with a line of seafood tavernas and a few rooms to rent and summer houses. Many Athenians who have yachts and cabin cruisers come here on weekends for barbounia and because of that prices are a little higher than what you will pay in a beach taverna somewhere in the Peloponessos.
Simos beach may be the best beach in Greece with soft white sand and clean blue water. One of the few beaches in Greece where camping is allowed. Well maybe it is not allowed but people do it anyway, pitching their tents among the dunes and trees and giving the area a sort of hippy or gypsy feeling to it. All the beaches on Elefonissos have a tropical look and feel to them and the cantinas play as much latin as Greek music. Besides the beaches there is not much to see on the island and besides being on the beach there is not much to do besides eat and drink. But the snorkeling is terrific, the barbounia at Psarotaverna Ntagiantas were delicious and I even allowed myself a glass of ouzo before our drive to Gythion.
Source: www.greecetravel.com