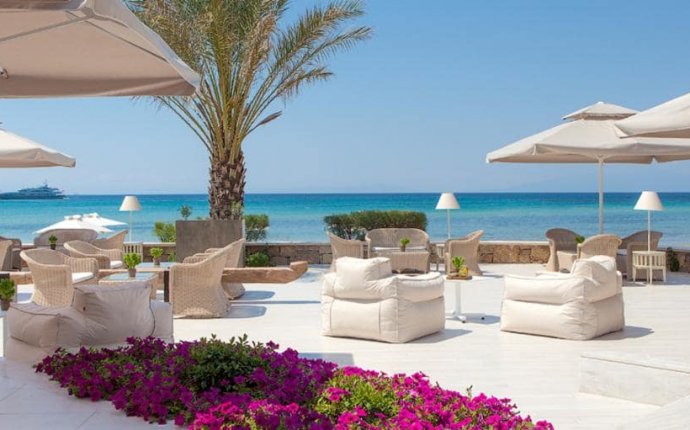 Sani beach, Greece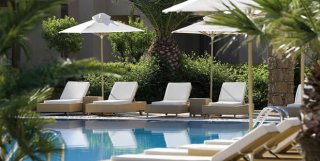 Sani Resort Features
At the Sani Resort in Halkidki you'll find a choice of hotels, spas, extensive sporting facilities and a number of authentic Greek restaurants and tavernas, some overlooking the fabulous Sani Marina.
Because the Sani Resort is so large, but self-contained, families are free to roam in safety. There are hiking trails through the woods, mountain bikes to rent and long beaches that are perfect for sunset walks.
There are 4 main areas of accommodation ranging from the Porto Sani (popular amongst families) close to the Marina, Sani Resort Club with contemporary bungalows, some with private pool. The boutique-style Sani Asterias, makes it a popular choice amongst couples, not least honeymooners, with its own exclusive beach, Michelin-starred chefs and all-suite accommodation. The Sani Beach is regarded as the all time classic family beach hotel.
Porto Sani
The contemporary elegance of Porto Sani in the Sani Resort is complemented by a superb setting close to Sani Marina and is reflected in the 103 stunning all-suite guest accommodation and the subtle design with its use of fabrics and natural woods. Each Porto Sani room has its own terrace or balcony and everything that makes your stay very special, including luxury beds, choice of pillows and even a Nespresso machine. In addition, the bathroom comes complete with rain shower and Jacuzzi bathtub with luxury toiletries by Anne Sémonin. New for this year the Porto Sani has it's own kids club.
Sani Club
The intimate surroundings of the luxurious low rise Sani Club, with magnificent views over Mount Olympus and the Aegean. These charming bungalows combine contemporary design with soothing blue and white hues – each one with its own lush garden or private pool. The 205 warmly welcoming guestrooms give you space to relax while the floor-to-ceiling windows provide magnificent views across the ocean and the verdant Mediterranean gardens. Each Sani Club room comes with a luxurious bathroom complete with rain shower and bath. And naturally, there's all the amenities one would expect of such luxurious accommodation. New for this year 2 bedroom Family Suites with / without private pools.
Sani Asterias
This luxury boutique Halkidiki hotel in an exclusive beach setting sits comfortably in its own serenely landscaped surrounds with inspiring views over the tranquil ocean and direct access to its own exclusive beach. The Sani Asterias is a range of beautifully appointed suites, with a clean, contemporary style collection of 48 spacious and pleasingly individual guestrooms. Each Sani Asterias Suite at the Sani Resort has a private terrace that makes an ideal setting for an intimate candlelit dinner. Your stay at the Sani Resort Halkidki will be thoroughly relaxing with a dream bed and luxurious mattress, along with a choice of pillows. The opulent marbled bathroom comes complete with a sensual range of bath essentials to spoil yourself in the refreshing rain shower or Jacuzzi soaking tub. New for this year the Sani Asterias has it's own kids club.
Sani Beach
The Sani Beach promises so much for all the family with its miles of golden sands stretching far into the distance. Each of the 394 well-appointed rooms & suites reflect the contemporary design of the hotel and offers stunning views across the Aegean or beautifully landscaped gardens. Each room comes with a private terrace or balcony and bathroom with rain shower. Light and airy, the accommodation has everything you could want to make your stay a real pleasure including flat screen TV, minibar and air-conditioning. Sani Beach offers a relaxing environment with each room having an individual balcony, exclusive terrace or own private garden.
Sani Dunes
Sani Dunes is exclusively for couples and families with children 12 years & over.
There is literally water all around Sani Dunes, located by the shimmering Aegean sea there is also a private beach and a choice of heated indoor /outdoor pools directly accessible from all Sani Dunes rooms.
Sani Dunes offers 136 magnificent rooms, each one welcoming guests with unique contemporary style. The 80 open plan Sani Dunes suites and 56 spacious Sani Dunes rooms offer understated luxury and the highest levels of comfort. Special features include 24 hour room service and complimentary Wi-Fi to Nespresso machines and the latest audio and visual technology. Sani Dunes is especially ideal for couples and families with children from the age of 12 years and over.
Enjoy the magnificent Sani Dunes Spa with jacuzzi, fitness studio, 6 treatment rooms and so much more.
For teenagers at Sani Dunes there is even a teenager chill out lounge.
What we say : 'Sani Dunes is the latest hotel to open at the Sani Resort and offers a truly 5 star family holiday, more suitable for families with teenagers with the most fabulous stretch of beach and pools all around.'
Childcare at the Sani Resort
The Sani Resort Halkidki Greece offers excellent facilities for children. On the beach, the Babe Watch nannies will take care of babies and toddlers while you enjoy a swim (the first 30 minutes are free).
From toddlers to teens, you'll find there's absolutely everything your children need to enjoy a fun-filled holiday. The Sani Resort Halkidki has fantastic pools, beautiful beaches and lots of organised activities going on every day. The safety and wellbeing of your children is paramount, so you'll find our wonderfully equipped crèche is operated by UK childcare specialists Worldwide Kids Company (formerly PB Kids) who work to Ofsted standards policies and procedures so you can relax knowing that your little ones are in safe hands. We've also made sure that our menus have a healthy selection of children's favourites, along with fabulous fruit shakes which they'll simply adore.
Melissa Creche at the Sani Resort is for child ages 4months – 3years
Opening hours 10am – 1pm & 3pm – 6pm (closed on Thursdays)The Sani Resort Halkidiki UK qualified nursery staff look after children as young as four months and up to four years old. There are two main locations within the Resort, one close to Sani Beach Hotel and a short walking distance from Porto Sani Village and Sani Asterias Suites and one at Sani Beach Club.> Melissa Crèche operated by UK childcare specialists Worldwide Kids Company (formerly PB Kids)
The Melissa Crèche is well equipped with toys for indoor & outdoor activities
Managed by qualified nursery staff according to the UK standards & regulations
Staff to children ratio of 1:3 for children from 4 months to 23 months and 1:4 for children between the ages of 2 and 4 years
Special programme activities each week specially designed for babies, toddlers & pre-schoolers
Our first priority is the safety of the children and our childcare staff are selected and trained with this in mind
Most baby supplies such as nappies, formula milk and baby food can be purchased locally. If you require a particular brand it is advisable to bring your own
Toys and equipment comply with European safety standards
Written policies exist on Health and Hygiene, medication, emergency procedures, special needs, equal opportunities, child protection etc
Bottle warmers and baby sterilizers are provided upon requestPre-bookings are advised.Prices
4mths – 23 months 35€ per session or 50€ per day24mths – 4 years 28€ per session or 40€ per dayFor children aged 4 + is free of charge
Source: www.designholidays.co.uk