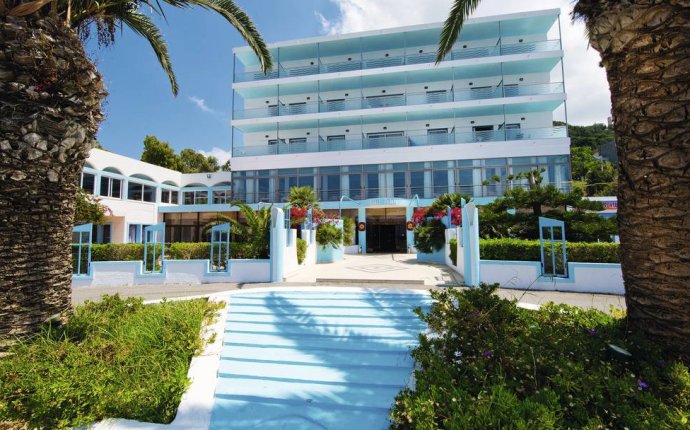 Hotels in Ixia Rhodes Island Greece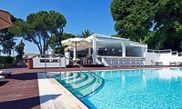 Hotel Atrium Platinum Luxury Resort Hotel & Spa Ixia
Atrium Platinum Luxury Resort Hotel & Spa is located in a cove below the Acropolis of Rhodes City in Ixiá, Greece. The location is close to Filerimos and the park of Monte Smith. Each room has a balcony, individually-controlled air conditioning, flat screen satellite-enabled television, Wi-Fi Internet access and telephone, electronic safe, minibar, and tea & coffee making facilities. Each bathroom includes a jacuzzi bathtub. Atrium Platinum Luxury Resort Hotel & Spa's spa offers a hair salon with facial beauty packages and a heated indoor pool with aqua beds, jet-massagers, and a whirlpool. Facilities supporting conferences and weddings are also offered. Multiple on-site restaurants are available. The main restaurant, Archipelagos, offers breakfast and dinner. Porfyra and Koi restaurants specialize in dinner cuisine, while the Elia and Tramonto restaurants provide poolside lunch fare. Bars include Chromata Bar and the poolside Rotonda Bar. Ixiá Beach is only 657 feet away. The Town of Rhodes is under three miles.
more
Hotel Amathus Beach Hotel Ixia
Amathus Beach Hotel is a luxury five-star hotel on a lush hillside on Rhodes Island. Just a short walk from Ixia Beach, this hotel features a spa and free Wi-Fi access. Each air-conditioned room features a balcony with scenic views of the ocean of the countryside. Rooms also feature satellite TV, minibar, private bathroom and complimentary bathrobes and slippers. Bungalows set in the hillside forest are also available on request. Some of the hotel's many facilities include four pools, a children's pool, tennis court, internet lounge, salon, babysitting services, and a sea sports centre. Amathus Beach Hotel boasts three restaurants serving a wide range of both local and international cuisine throughout the day. Four bars with extensive drinks menus and serving light meals ensure guests can enjoy a relaxing drink anywhere in the hotel. Rhodes City Centre is just a ten-minute drive while Diagoras International Airport is twenty minutes away.
more
Hotel Sheraton Rhodes Resort Ixia
Sheraton Rhodes Resort is a beachfront hotel located in Ixia, Rhodes. The air-conditioned rooms feature a minibar, tea and coffee making facilities, bathrobes, slippers, flat-screen TV, ensuite, free toiletries and hair dryer. The hotel offers 24-hour front desk, free parking, paid Wi-Fi, indoor and outdoor pools, outdoor tennis courts, fitness centre, full-service spa, health club, spa, steam room, hair salon, beach umbrellas and loungers, meeting space, tour assistance, luggage storage, ATM, garden terrace and front desk safe. The property features a pool bar, lounge bar and coffee shop as well as three restaurants - Mediterraneo, Castellania and L'Onda - which serve Mediterranean and Italian food. It also features free or paid breakfast and 24-hour room service. Sheraton Rhodes Resort is three miles or less to the Acropolis of Rhodes, Temple of Apollo, Palace of the Grand Master of the Knights of Rhodes, Rhodes Aquarium and Archaeological Museum of Rhodes.
more
Hotel K Boutique Ixia
Located on Rhodes Island, the 4-star K Boutique Hotel was recently renovated as an exclusive couples-only hotel. It provides guests with modern accommodation by the South Aegean Sea. Accommodation includes well-appointed luxury suites with contemporary furnishings, Wi-Fi Internet, satellite TVs, central heating, minibars, safes, air-conditioning and separate living room areas. Suites have either a balcony or terrace with garden views. Executive Suites come with either a private outdoor jacuzzi or pool. The K Boutque Hotel facilities include a jacuzzi, pool, fitness and spa facilities, a pool bar, lobby and on-site dining. There is also a business centre with the latest technologies. The a la carte restaurant serves authentic Greek cuisine and well-prepared dishes. The open bar and restaurant offers a breakfast of hot and cold menu items. The property is less than ten minutes to Rhodes International Airport and minutes from the centre of Rhodes and the beach.
more
Hotel Dionysos Hotel Ixia
Dionysos Hotel is a resort hotel with 25 acres of luscious gardens. It is a quick ride or a 45-minute stroll into Rhodes Town. Ensuite rooms have a terrace or balcony, and marble flooring or carpet. All include TV, a fridge, and toiletries. Wi-Fi and a safe are available at surcharges. Complementary activities at Dionysos Hotel include the adult and kid sized pools, children's play area, tennis, volleyball, and basketball. Golf, massage, sauna, and billiards are available at cost. Wedding, business, and events facilities are onsite. For onsite dining, there is Amvrosia breakfast, the poolside Maistros, Dionysos Hotel wine and grilled specialities, plus a souvlaki bar, Apollo Cocktail bar, Greco Cafe, and Aquarius serving alcoholic and non-alcoholic drinks at poolside. Rhodes International Airport is 15-minutes away. The beach is less than 800 feet away. Other shores are less than ten minutes away. The Acropolis of Rhodes is a 30 minute walk.
more
Hotel Rodos Palace Ixia
Those seeking class and comfort on the island of Rhodes need look no further than the Rodos Palace Hotel. An ideal Mediterranean holiday spot, it's near the Medieval City and the Throne of Helios. Guest quarters include high-speed Internet, colour satellite television, minibar, hairdryer, music channels, phone, climate control, private balcony or patio and en-suite restrooms. The hotel provides both indoor and outdoor pools, courtesy Wi-Fi, 24 hour reception, watersports, tennis and golf, fitness centre, free private carpark, minimarket, spa, terrace, concierge, laundry services, tourism desk, currency exchange, car rentals, shuttle service (surcharge), salon, ATM and business services. The Rodos Palace Hotel offers ten different bars and restaurants, each serving a blend of Greek and international fares, as well as ales, spirits and wines. Guests can choose from formal, casual or a la carte settings. The hotel is roughly two miles from scores of popular attractions, including Rhode's Mystery, the Palace of Grand Master of Knights and the Archeological Museum of Rhodes.
more
Source: www.trivago.co.uk