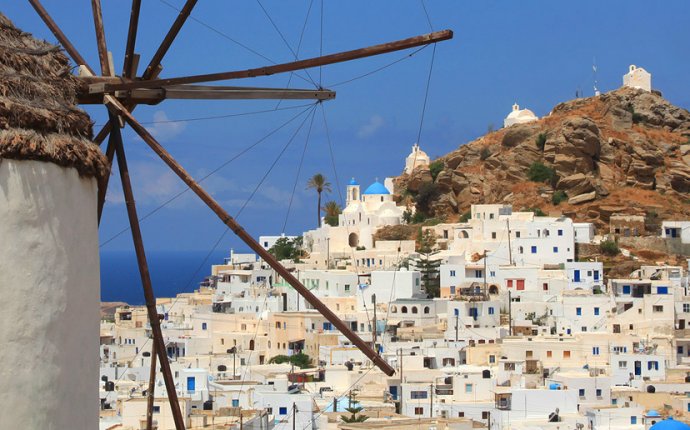 Greece Ios Island
Located in the Cycladic Islands, Ios has the wildest nightlife out of all the Greek islands. It is the summer party island where days are spent hungover on the beach and nights spent eating cheap food and drinking until the comes up. While there's a lot to do on the island if you don't want to party, it always seems like 95% of people come here to party (and the average age is 22). If you don't want to do that but still want to see Ios, it's best to go to the eastern part of the island where it's quieter and more relaxed. But don't let Ios' party reputation deter you from visiting – it's a beautiful island and only busy June-August!
Typical Costs
Hostel prices – Hostels start at about 12 EUR per night for a dorm room and 30-40 EUR for a private room. Camping starts at 6 EUR a night. During July and August, prices double. For long term stays, you can usually find a private guesthouse for around 25 EUR per night. Francesco's in the town center or Far Out Beach Resort are the two best and most popular places to stay (I prefer Francesco's since it's centrally located).
Budget hotel prices – You can find private rooms starting at about 30 EUR per night (expect to pay more in the high-season). Rooms at this price point include a private bathroom, air-conditioning, TV, and a mini-fridge. On Airbnb, shared rooms start at 10 EUR and entire homes (including studio apartments) can be rented for around 40 EUR.
Average cost of food – Ios is filled with cheap food thanks to all the backpackers that flood the island. You can eat cheaply with gyros (meat, cheese, sauce, onions, and tomatoes served on pita bread) or other street food for only around 4 EUR. Most meals will cost around 8-11 EUR, including a drink. For a good restaurant meal, expect to pay around 18 EUR. The nicest places on Ios cost around 27 EUR including a glass of wine. If you cook your meals, expect to pay 40 EUR per week for groceries that will include pasta, vegetables, chicken, and other basic foods.
Transportation Costs – The local bus system only runs in the summer. It costs 2 EUR and runs along the island's main road. The local bus only runs until about 7pm after which you'll need to take a taxi. More common for transportation are ATVs. You can rent ATVs for about 15-40 EUR per day to get to the beaches and parts of the island further afield.
Suggested daily budget – 50 EUR / 52 USD (Note: This is a suggested budget assuming you're staying in a hostel, eating out a little, cooking most of your meals, and using local transportation. Using the budget tips below, you can always lower this number. However, if you stay in fancier accommodation or eat out more often, expect this to be higher!)
Money Saving Tips
Rent an ATV – A fun and popular way to travel this is the cheapest way to get around the island. Don't try renting a car; they are very expensive.
Eat lots of gyros – A good way to save money is to eat the cheap Gyros and sandwiches from places like Porky's and Club Sandwich.
Buy your own alcohol – Ios is a place where people drink. You can end up spending a lot of money if you aren't careful. Drink your own alcohol before heading out and then stick to the 1 EUR shot bars. Otherwise, you could find yourself spending close to 45 EUR per night!.
Book overnight ferries – Greece's inter-island ferries can get quite expensive if you are visiting a lot of them. Taking the overnight ferries can save you up to half off the normal price plus save you a night of accommodation.
Book ferries early – If you book the ferries around two months in advance, you can save up to 25% off the cost of your ticket. (Score!)
Source: www.nomadicmatt.com