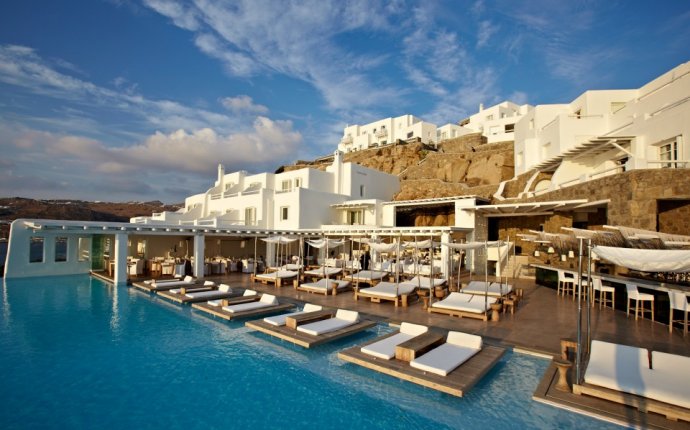 Cavo Tagoo Hotel Mykonos Greece
Resting into a wondrous cliffside in Mykonos town, the legendary CAVOTAGOO draws world travellers into a seductive realm of sensuous pleasures. A realm of unpretentious class, style and glamour, seamlessly blending the elements of Cycladic tradition with the magnificence of contemporary architecture, the jet-setting vibes of Mykonos and the notion of chic barefoot luxury. A 5 star Mykonos hotel proposing a breadth of undisclosed luxuries, exuberant services and lip-smacking gastronomic proposals that will sure lure prestigious guests into a dream-state of mind.
Welcome to the seductive and sensual world of CAVOTAGOO…
This stately luxury hotel in Mykonos stands beyond the fundamentals of pure luxury and minimal grace as it introduces a world fusing of aesthetic allurement. A dashing world of temptations where every guest is made to feel special and every moment is preciously treasured for life. Prepare to step into the sensual world of CAVOTAGOO, relish scrumptious delights at Kiku restaurant in Mykonos and experience the most intriguing awakening of the senses with some of the best spa therapies and treatments at CAVOTAGOO's luxury spa center. Those wishing to be wed at the ultimate honeymoon destination of Greece are welcome to exchange eternal vows at the best hotel in Mykonos town.
Evoking a sense of sheer bliss, CAVOTAGOO captures the heart and soul of prestigious travellers seeking for a stylish Mykonos accommodation. Prominent guests are welcome to relax and unwind at one of the hotel's luxury suites and villas, enjoy their privacy in the sleek interiors and generous outdoor spaces, dive in the tranquil waters of their private pool and take in the sprawling vistas of the azure Aegean Sea. Unravel the secrets of luxury .. one by one at one of the finest Mykonos Luxury Hotels.
Source: www.cavotagoo.com