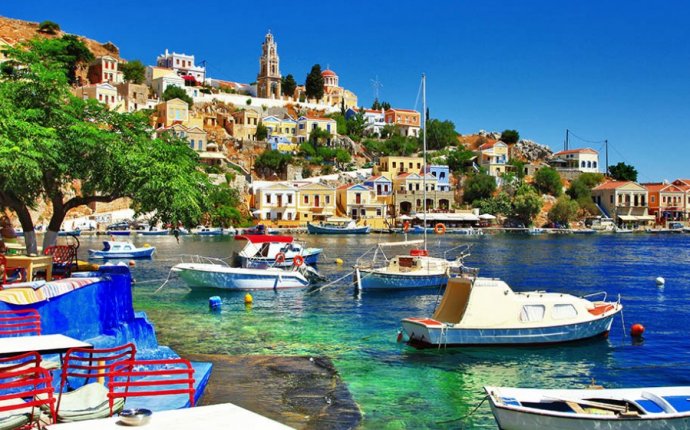 Best Hotels in Rhodes, Greece
Eternally appealing, there are many reasons to travel to Rhodes, largest of the Dodecanese. Broadly you could say it's sunny, sandy, beautiful, historic and delicious. Because so many folk are drawn here there's a huge range of choice when it comes to choosing the best places to stay in Rhodes. From diving resorts to campsites to traditional guesthouses to luxurious modern hotels.
Rhodes Town is the capital, with a charming Old Town that's a maze of alleyways which open out to reveal restaurants, cafes, museums and chi-chi boutiques. Heritage Listed, Old Rhodes Town has a fascinating blend of architecture, influenced by Rome, the Byzantines and the Medieval order of Knights who settled here and who're responsible for much of the fortification.
The New Town is where you'll find the waterfront bars, cosmopolitan beaches and the luxury shopping. Rhodes is a great place for foodies, partly owing to the island's verdant conditions and the bounty of the sea, so you'll really be spoiled for choice.
Whether you choose to stay in Rhodes Town, or one of the other resort towns, or a smaller fishing hamlet, you'll find plenty to do on Rhodes.
You've heard of the Colossus, right? Well, the 30 metre statue's no longer, but the best places to stay in Rhodes will find you near to plenty of other ancient archeological and mythological treasures which you can uncover. The waters here are crystal clear, so many visitors make their discoveries underwater, but the rolling hills of the interior hide numerous charming villages, many of which have their own little museums and churches.
The Best Places to Stay in Rhodes Town
The Marco Polo Mansion has the ambience of Rhodes' Old Town just right. A lovingly restored Ottoman townhouse with just seven rooms, a stay here is like staying in another time. The walled garden is peaceful and beautiful, the restaurant is good and it's all very romantic.
The Rodos Park Suites in the New Town is the polar opposite - bustling, close to the beach and fresh and modern with all the mod. cons., including a large pool and poolside bar.
The Zacosta Villa Hotel is a slightly old fashioned, but very charming, three room hotel in central Rhodes. You're close to the museums and the Knight's castle, and though there's not restaurant, you're surrounded by them, and the breakfasts here are excellent.
The Nikolis Hotel & Apartments occupies a stunning medieval castle in the centre of town. This is a great place for lovers of detail - there are wooden beamed ceilings, lovely private balconies, stone walls, fourposter beds and a rooftop garden with wonderful views over the town.
The Best Places to Stay on Rhodes for A Special Occasion
Lindos Blu sits pretty on the cliffs above Lindos, with spectacular views of the turquoise bay and sugar cube village just a short stroll away. The spa is top of the range and the rooms and suites offer every modern luxury and in some cases your own private pool.
The unusually named Fashion Hotel Nikos Takis offers Harem style high-camp glamour hidden away in one of Rhodes' Old Town's historic townhouses. There are just eight rooms, so this is an intimate and very memorable spot with plenty of added extras like jacuzzis and the complimentary use of guitars and accordions with which to serenade your partner…
Rodos Palladium is a modern five star hotel right on the beach. This hotel is for you if you're looking for a resort style beach break, but beside a fascinating town. There's a tropical lagoon style pool and gardens, a choice of restaurants and private, ocean-facing balconies.
Source: www.thehotelguru.com